Designed to bring out the potential of any player and instrument, Duet with Yoo is an experiential, co-performance installation by Hakuhodo i-studio that uses the Yamaha AI Music Ensemble System. It means that any solo musician will feel like he or she is playing in an ensemble.
The official press release says:
It provides an interactive AI experience where a musician feels like they are playing with another musician. The Yamaha proprietary AI Music Ensemble System instantly analyzes a musician's performance in real time, and predicts suitable tempo, timing and dynamics to create a harmonized ensemble on a Yamaha Disklavier piano. As you play, YOO beautifully accompanies your performance.
It will be demonstrated at South by Southwest from March 11th to March 14th.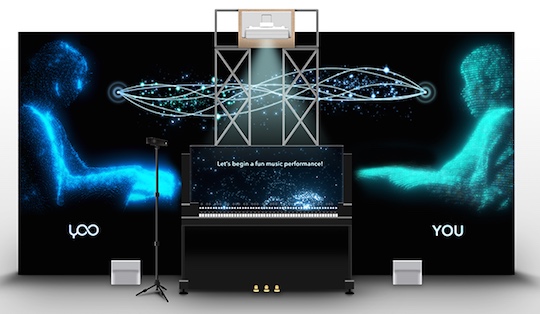 Participants will be able to experience the Duet with YOO installation through a performance of "Twinkle, Twinkle Little Star."
This song was chosen because it is very well-known and relatively easy for beginners to play allowing almost anyone to experience music AI.
Find Duet with Yoo at Booth 1325.
The annual SXSW in Austin, Texas, has become an increasingly popular place for globally-minded Japanese creatives to showcase their latest prototypes. Past debuts include the Lyric Speaker and iDoll.
Yamaha is an established leader in music innovation, responsible for some astonishing prototype instruments as well as the Vocaloid synthesizer system used by the phenomenon that is digital idol Hatsune Miku.