Recently we learned that all public elementary schools and middle schools in Matsue, a city in Shimane prefecture, have been asked by the city's board of education to put A-bomb manga series Hadashi no gen (Barefoot Gen) into the closed stacks of their libraries.
Hadashi no gen is a comic book series by the late Keiji Nakazawa, who as a survivor of the Hiroshima bombing reconstructed his own wartime experience in the life of a young boy named Gen Nakaoka. The series has been translated into multiple languages and is regarded by many as one of a rare historical resource told in its entirety by a civilian who witnessed and survived the atomic bombing and its aftermath.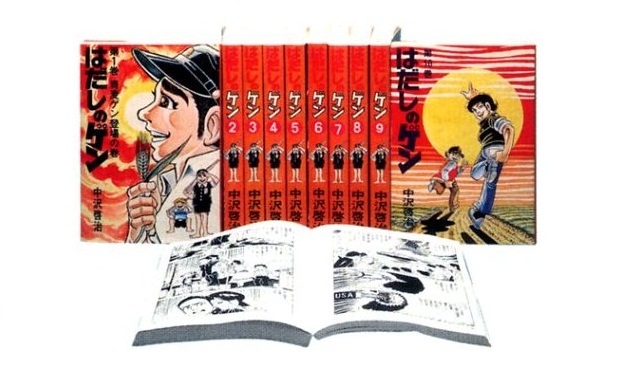 It has been reported that the board of education in Matsue made a verbal request to the schools back in December last year, asking them to restrict student access to the manga in their respective libraries — to which all schools that owned the series responded obediently. Since then, the manga series has been removed from their libraries and can only be accessed by students with a teacher's permission. The primary reason behind the decision was that the manga contains some images that would be too violent for young kids and thus could have a negative effect on them.
The board members recognize its historical and educational value, yet at the same time claim that kids should only read such graphic novels under certain conditions, which in this case require supervision by someone "educated" enough to guide young readers through each page. The sarcasm you might detect here is intentional because to me, given that violent images are the only thing that these adults do not want kids to see, the implication is very clear that whoever wished to take the manga away from kids obviously underestimated a child's ability to learn from what could be the most horrific and chaotic time of Japanese history — and overestimated a teacher's ability to explain the depiction of a firsthand experience of the atomic bombing and wartime atrocities.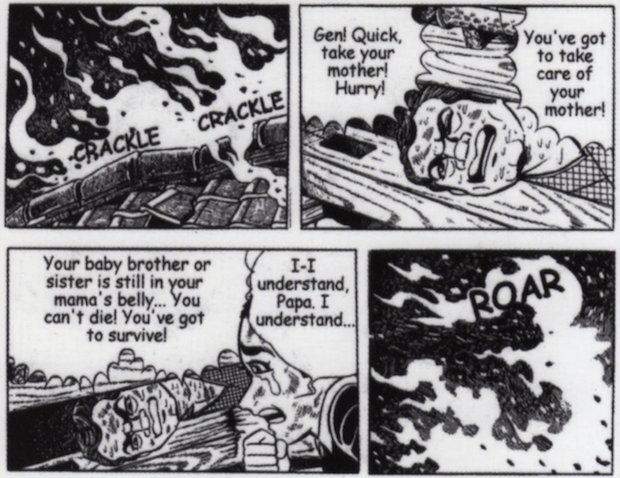 Already there has been a lot of speculation about what else could have been discussed behind the closed doors of the education board. One thing we do know is that back in August 2012 a petition was filed to the board by a resident in Kochi who requested that Hadashi-no-gen be removed from all school libraries in Matsue because it contains such message that: (1) insult the Emperor of Japan; (2) give incorrect an interpretation of Japan's national anthem; (3) portray wartime atrocities of Japanese troops, which the resident claims never happened in reality. All things together, he claimed that the manga would teach an incorrect history of Japan and could possibly be detrimental to the development of patriotism in the upbringing of a child.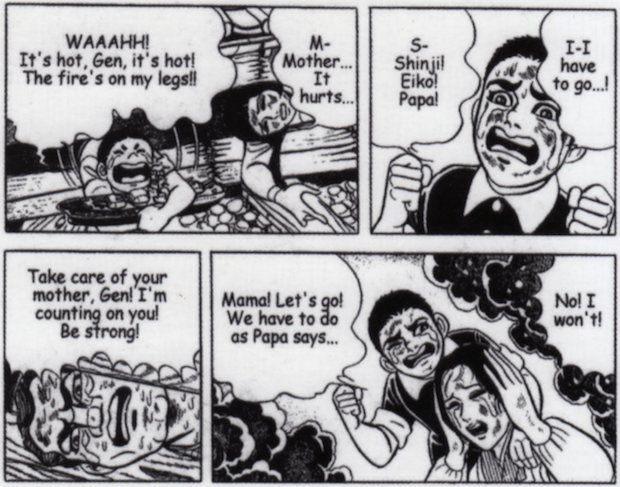 The board turned down his petition, yet four months later, as we now know, de facto granted his wish by asking all schools to voluntarily remove the manga from their libraries, though ostensibly for a different reason. No one knows if the board's decision was in any way affected by the petition, yet I believe that banning any historical resource in a public institution, whether it be fiction, nonfiction or anything in-between in its full or partial form will only encourage one-way learning where kids or even adults would simply accept whatever is presented in front of them as the only truth. It's much more important for kids to have access to variety of sources so that they can see history as a collection of multiple narratives, and Barefoot Gen should not be excluded from their list.
In Hiroshima, there is actually currently a Hadashi no gen exhibition held at Hiroshima Peace Site, where visitors can see some original drawings of the manga.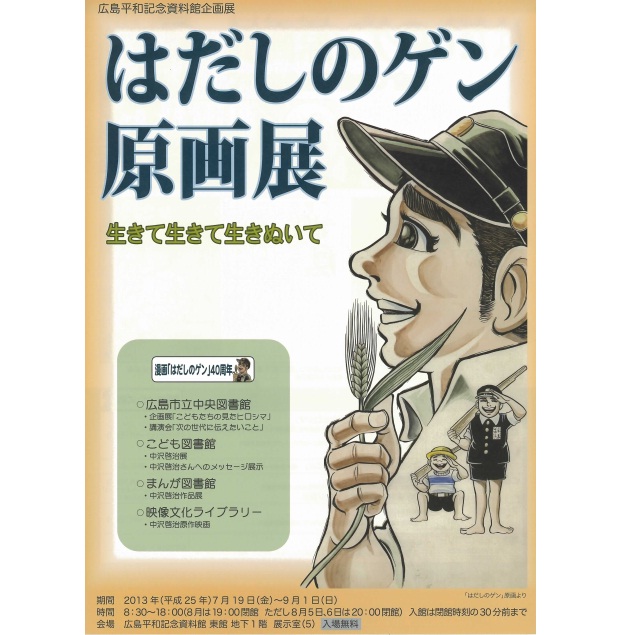 The exhibition is in part to celebrate the fortieth anniversary of the manga since it was first published in Weekly Shonen Jump back in 1973, but I find it so ironic that in other parts of the country Hadashi no gen is considered too violent to be educational.
There has already been a call for signing a petition to the board to bring back the manga to school libraries. Matsue's board of education has also received a number of phone calls and emails from all around the country in response to the news, most of which were against the banning. The board director has announced that they will reconsider the decision to see if such act was necessary in the first place.