The new retail and commercial complex Ginza Six was announced last autumn, designed by Yoshio Taniguchi and featuring shops, offices, a rooftop garden and Noh theater.
The center of the complex, which is set to open on April 20th, will also host an exhibition space overseen by Mori Art Museum's Fumio Nanjo. The debut exhibition will be an installation by Yayoi Kusama and the first preview images have now been released.
The stunning installation of new pumpkin works by Kusama will hang lavishly and outlandishly from the atrium ceiling inside Ginza Six. The pumpkins feature the artist's signature polka-dot theme and bold colors. They will be displayed from April 20th until May 16th.
Kusama is one of the most popular artists in the world. Her touring show "Infinite Obsession" attracted 2 million visitors in South and Central America in 2014. An exhibition of her work is also currently showing at the National Art Center, Tokyo until May 22nd.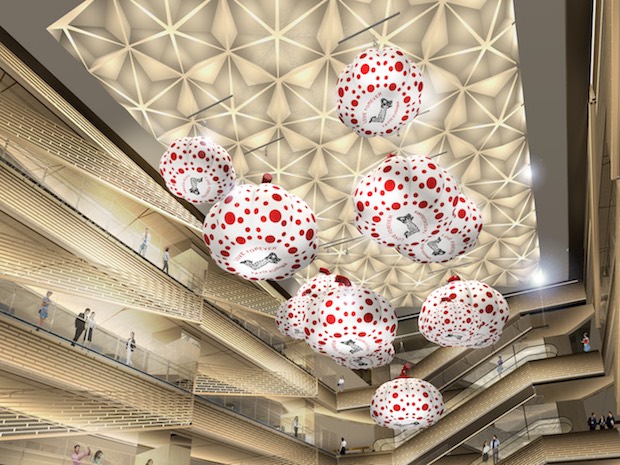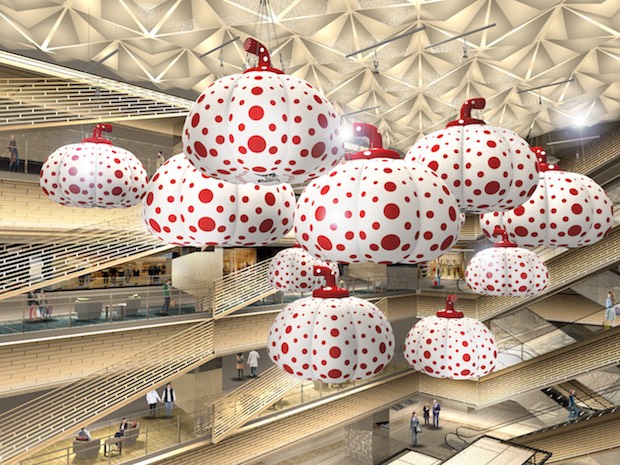 Ginza Six also features two 12-meter "living wall" installations, including one by the prolific digital technology media group teamLab that creates a waterfall image as the sun sets.
Other exhibits include permanent displays of the work of Shinji Ohmaki, Misa Funai, and Yuumi Domoto. In addition, the space Lounge Six will have work by the New York-based Hiroshi Sugimoto.