Ben & Jerry's is encouraging people to participate in the upcoming election for the new governor of Tokyo by giving away free ice cream to anyone who announces on social media that they will vote.
People are being asked to tweet or post on Facebook their choice of ice cream flavor and a fixed phrase in Japanese saying that they are going to vote in the Tokyo gubernatorial election on July 31st, which was triggered by the resignation of scandal-hit Yoichi Masuzoe in June. Voters then show the image of their tweet or Facebook post to a member of staff at one of two Ben & Jerry's branches in order to receive the ice cream.
The period to post a message to Twitter and Facebook runs until midnight on July 30th, and voters can then collect their free ice cream between July 31st and August 3rd. However, voters are not permitted to include the name of a candidate in the social media post, since Ben & Jerry's cannot be seen to be supporting a specific political position.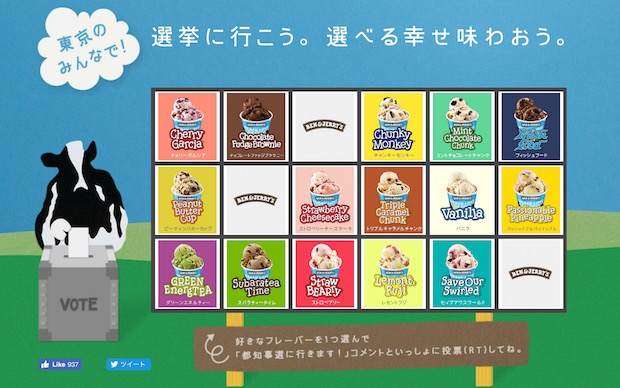 Aimed likely at younger voters, this is a socially enterprising campaign by Ben & Jerry's, whose foothold in the Japanese market is established but by no means leading. It has previously run free giveaway days and other strategies to create buzz, especially around its flagship Omotesando store. (It has also employed similar politics-themed tactics outside Japan, too, such as its Empower Mint flavor in America and an election campaign in London earlier this year.)
Coming quite soon after the last Tokyo governor election in 2014 and only weeks after the upper house election, turnout is not expected to be particularly strong.
The new governor will oversee the final preparations for the 2020 Tokyo Olympics as well as attend the Games in Rio as the representative of Japan's capital. However, the timing of Masuzoe's resignation means that there will need to be another election immediately before the Tokyo Olympics, which might even result in yet another governor actually opening the Games for the city.
The current three leading candidates are Yuriko Koike, running as an independent, Hiroya Masuda, on the joint LDP-Komeito-Party for Japanese Kokoro ticket, and Shuntaro Torigoe, who is backed by the main opposition parties as the left-leaning, liberal on the ballot. Torigoe looked like a serious contended for Koike and Masuda, though fears have been expressed about his age and health, plus he has been hit by two tabloid reports about sexual harassment, to which he responded with lawsuits.
Amid increased public apathy, we have seen other recent attempts in Japan to encourage people to vote.
At the beginning of the month, the upper house elections enfranchised 18- and 19-year-olds for the first time. (The reform is permanent, so they can also vote in the Tokyo gubernatorial election on Sunday.) This led to a slew of attempts by parties, local authorities, and the electoral commission to entice these voters to actually go to the polls, and it was relatively successful. Overall turnout was 54.7%, slightly up from the last election in 2013, though still very low when compared to turnouts for lower house elections. 51.17% of 18-year-olds voted, while the turnout for 19-year-olds was 39.66%.
Will free ice cream boost these numbers?