With the release last Friday of the first Japanese-produced Godzilla film since 2004, Godzilla is currently everywhere and anywhere.
From a slew of new tie-in products to whisky products and department store promos and a hotel in Shinjuku, there's no escaping the roar of Japan's most famous movie monster.
Now you can ride a Godzilla-themed bus around Kabukicho and other parts of Shinjuku. The choice of bus and area is clearly deliberate, since the big Toho cinema complex and "Godzilla hotel" is one of the major new developments in Kabukicho (in part, helping to gentrify what was once a no-go area for families).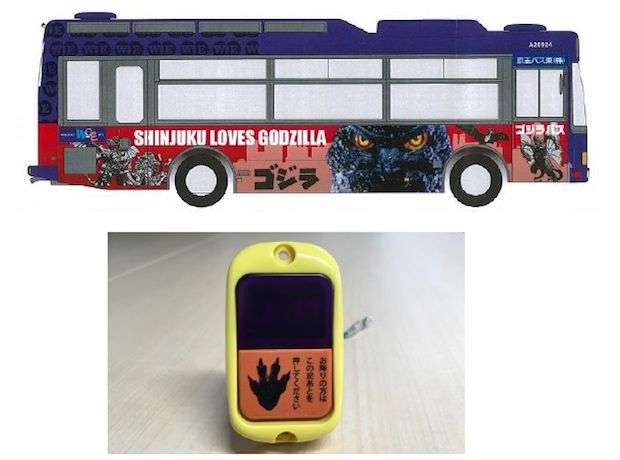 The Godzilla decorations feature on the Shinjuku WE Bus from July 29th, the day of the release of Godzilla Resurgence (Shin Godzilla) in local theaters. In addition to the exterior, the inside has a showcase of Godzilla figures and when you want to get off, the specially customized buzzer will even play the iconic Godzilla roar. How's that for getting the driver's attention?
Three buses run along the route operated by Keio Bus between Shinjuku Station and Kabukicho, though only one will become the Godzilla bus. It goes right past the Hotel Gracery Shinjuku, where a life-sized Godzilla head adorns the roof and looks down hungrily on the pedestrians below.