It's past midnight, and you just missed the last train. A hotel is out of the question, much too pricey, but you definitely want more privacy than a tiny cubicle in a manga cafe. What's a cheapo to do?
That's where the capsule hotel comes in. First built by Kisho Kurakawa in Osaka in 1979, a capsule hotel consists of pod-like rooms—if you can call them rooms, as they're more like compartments—stacked together, providing the bare minimum in terms of space and amenities. Inside, there's just enough room for a person to crawl inside, lie down, and sit up (but if you're too tall, even this might be impossible). Basic amenities include a light, an air conditioner, and alarm clock, but some capsule hotels may also provide a TV, power outlet, and/or radio. There are no locks, only a shutter for you to get some quiet and privacy—which isn't always guaranteed, as you may have the misfortune of sharing the hotel with rowdy guests.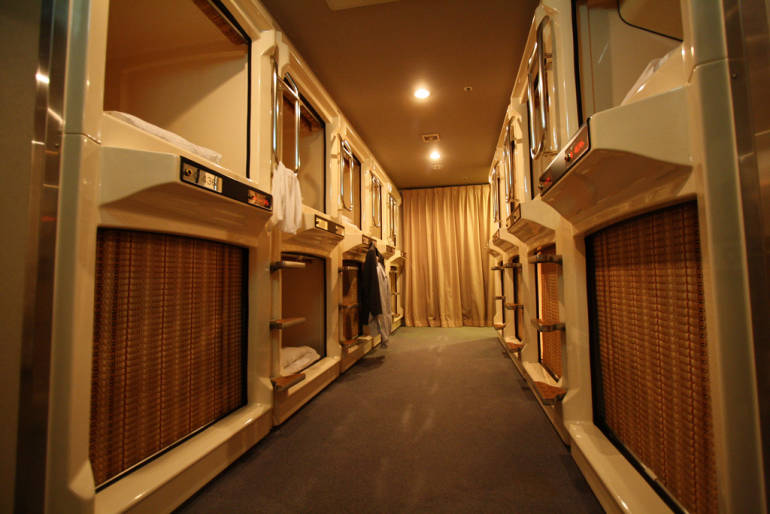 While capsule hotels used to primarily have salarymen as their clientele, tourists have also come to appreciate capsule hotels for their cheaper rates compared to most regular hotels, as well as the novelty of staying in something thought to be unique and futuristic. Capsule hotels are no longer just places to spontaneously spend the night in, but also accommodations that people purposely intend to stay in. But before you start booking one, here are some things you might not know about capsule hotels:
1. They're not necessarily cheaper than a hotel or hostel.
The average rate per night at a capsule hotel ranges from ¥2,000-6,000. While ¥2,000 is definitely cheap, and you'd be hard-pressed to find a hotel that charges that cheaply for a night, there are some budget hotels and hostels that can offer you a room for about ¥3,000-6,000 a night. Here's an example for comparison: some branches of the popular budget hotel chain, Toyoko Inn, have a midnight-time service, which means that checking in past midnight can get you a room for ¥4,500, about as much as a room in some capsule hotels. Some hostels even have private rooms that cost about as much, or are cheaper than, capsule hotel rooms. If you're looking for a comfortable stay that's on a budget but not dirt-cheap, and aren't after the capsule hotel experience, you might be better off in a cheap hotel or hostel.
2. They're more than just pods stacked together.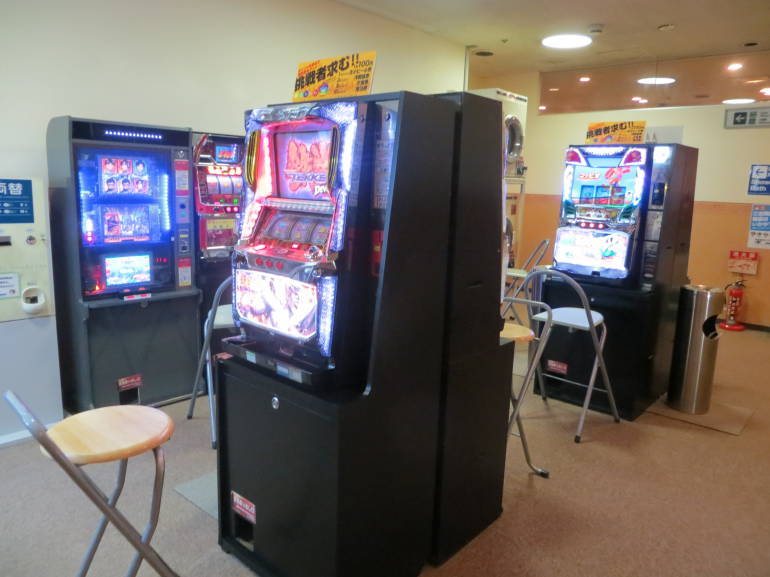 A mini-game center inside the capsule hotel I stayed in. | Photo by Tiffany Lim under CC
Don't worry; capsule hotels are not that sterile and impersonal. The capsule hotel I stayed in had a bath and sauna, vending machines, a manga library, some arcade games, massage services, a communal space for watching TV, and even a restaurant. Not all capsule hotels have that many facilities and amenities, but you can rest assured that capsule hotels provide more than the rooms. The least that they provide are bathing facilities, lockers (usually one locker area for shoes, and another one for other belongings), and a lounge. While capsule hotels don't exactly exude the social vibe that hostels are known for, who knows—you might be able to make some friends at a capsule hotel lounge! Also, note that baths tend to be communal (but still gender-segregated, of course), and that those with tattoos are usually not allowed into the baths and saunas.
3. Many capsule hotels are only for men.
This is said to be for women's safety, but nowadays, capsule hotels are offering the more sensible solution of catering to women but keeping the floors or areas segregated by gender. Guests usually need a special key to access the sleeping quarters.
4. You have to check out for each day of your stay.
Capsule hotels aren't really meant for long-term stay. That doesn't mean that you can't stay in a capsule hotel for, say, a week, but you'll have to check out then check in again every day. Check-out time is usually at 10:00 am, but you can extend for a small fee, usually ¥300-500 per hour.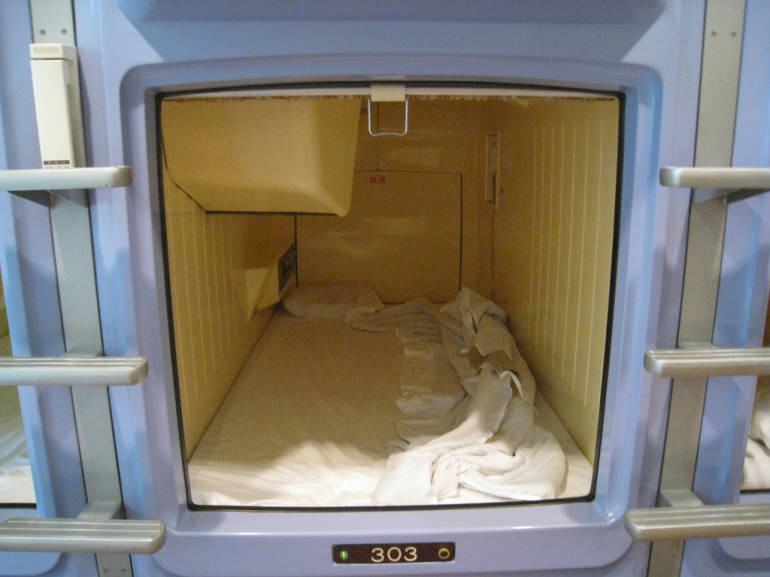 Inside a typical capsule pod. | Photo by Travis Rigel Lukas Hornung used under CC
Recommended Capsule Hotels in Tokyo
All the capsule hotels listed here are open to both men and women.
1. Nine Hours Narita Airport
Welcome to Japan! Are you stuck waiting for a connecting flight? Did you arrive past midnight? If so, this capsule hotel in Terminal 2 of Narita Airport is a godsend. The hotel has lockers, showers, and a lounge. Toiletries are also provided. Overnight prices start at ¥3,900, but vary depending on the season. Currently, a standard plan costs ¥4,900 a night on weekdays, and ¥5,900 on Fridays and weekends, although the price drops to ¥4,400 or ¥5,400 if you stay for more than a night. Checking out each day doesn't seem necessary here. A plan with a breakfast coupon is also available for ¥5,440 on weekdays and ¥6,440 on Fridays and weekends. Hourly rates are also available for those who just want a short rest: it's ¥1,500 for the first hour and ¥500 for each succeeding hour.
Address: 1-1 Furugome, Narita-City, Chiba 282-0004
Check-in: 12:00 pm-5:00 am | Check-out: 10:00 am
2. First Cabin Haneda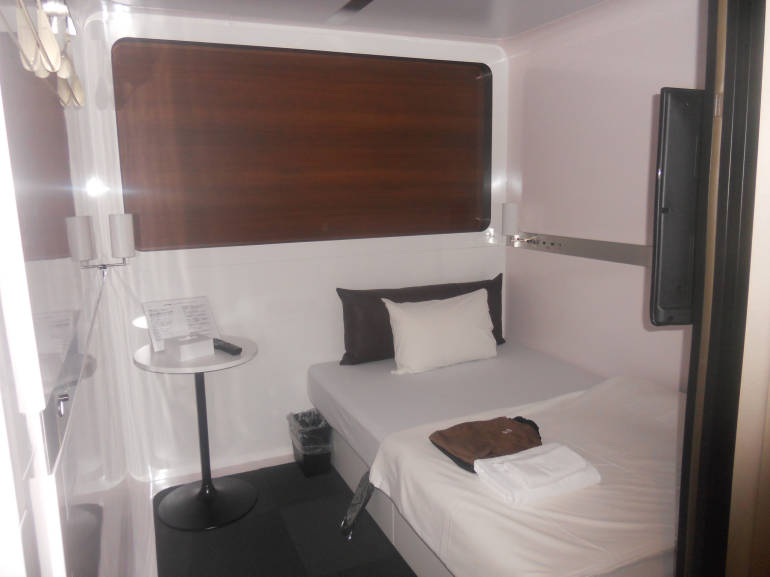 Photo by Meredith P used under CC
Not to be beaten by Narita, Haneda Airport also has a capsule hotel of its own, inside Terminal 1. As the name implies, this is fancier than your average capsule hotel. In fact, their rooms are called "cabins" rather than "capsules," and they, indeed, have much more space and actual beds, making their rooms look more like mini-hotel rooms than capsule pods. Size aside, the only other reminder that you're not in a regular hotel is the lack of a lockable door. An overnight stay here costs ¥6,000 a night (¥6,300 on Fridays and Saturdays) for a first-class cabin, while it's ¥5,000 (¥5,300 on Fridays and Saturdays) for a smaller cabin. The only difference between first and business class is size—the former has more space for your luggage. Short-term stays are also available for ¥800-1,000 an hour for business and first class, respectively. Toiletries and earplugs are provided.
Address: 1F Haneda Airport Terminal 1 | 3-3-2 Haneda Airport, Ota-ku, Tokyo
Phone: 03-5757-8755
Check-in: 7:00 pm | Check-out: 10:00 am
3. Green Plaza Shinjuku / Le Luck Spa
This capsule hotel complex goes above and beyond the bare minimum, what with its saunas, outdoor bath, hot springs, massages, napping room (for those looking to unwind after a bath), lounge, and restaurant. The complex's facilities are segregated by gender, with a standard room costing ¥4,500 a night for men and ¥5,200 a night at Le Luck Spa for women. For that price, men get a TV, alarm, and radio, while women get all that plus Wi-Fi and power outlets. For men, an upgraded room is ¥5,300-5,400, the latter price consisting of everything previously mentioned plus a LAN cable. Early-morning stay plans and spa-and-sauna-only plans are also available. Le Luck Spa promises a full range of amenities for women, so this is a place to visit for some pampering.
Address: 1-29-2 Kabukicho, Shinjuku-ku, Tokyo
Access: Shinjuku Station
Phone: 03-3207-5411 (men), 03-3207-4921 (women)
Check-in: 3:00 pm | Check-out: 10:00 am
4. Shinjuku Kuyakusho-mae Capsule Hotel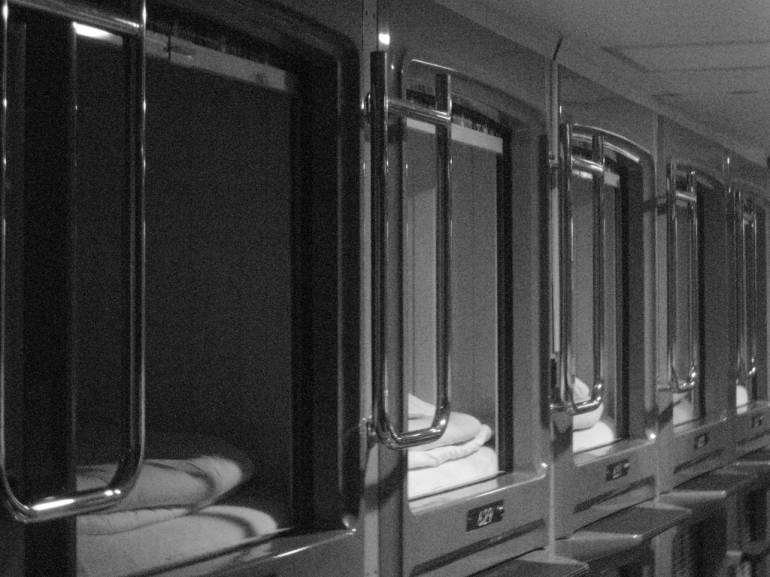 Photo by Dom Pates
Also close to Shinjuku Station's east exit is this hotel, which has a 24-hour bath and sauna, and a business-and-relaxation lounge with Wi-Fi and PCs. The hotel also has a restaurant and coin laundries. A room costs ¥3,500 on average, but this hotel regularly has discounted plans. For 2015, the first 10 women to book a room for any given day can do so for only ¥2,000 a night, and male job-hunters who can present a valid Japanese school ID can book a room for ¥2,100-2,800 a night. Otherwise, it's ¥2,500-3,800 a night for women, and ¥2,600-3,600 a night for men. All rooms come with Wi-Fi and power outlets.
Address: Touyo Building 3/F, 1-2-5 Kabukicho, Shinjuku-ku, Tokyo
Access: Shinjuku Station
Phone: 03-3232-1110
Check-in: 4:00 pm | Check-out: 10:00 am
5. Hotel Asakusa & Capsule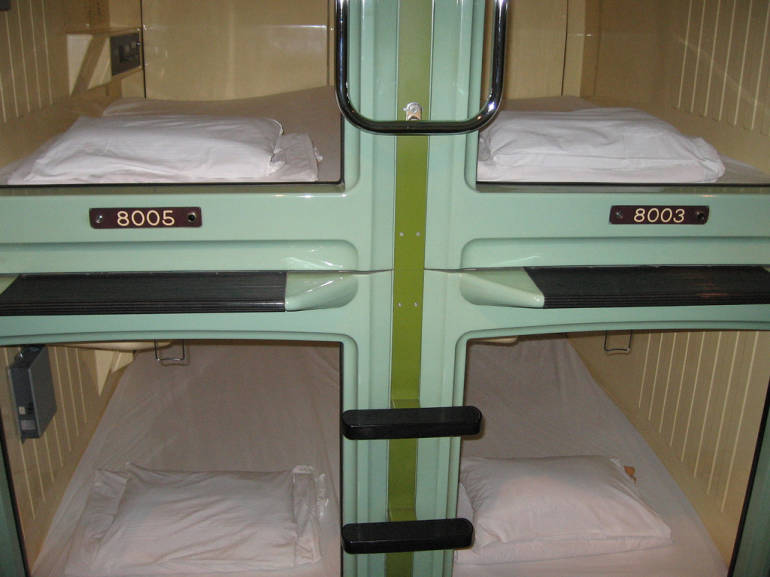 Photo by Daa Nell used under CC
Hotel Asakusa & Capsule's rates are pretty cheap, at ¥2,200 a night. Students can get a capsule for ¥1,700 a night. A bathhouse, coin laundries, PCs,vending machines, and microwaves are just some of their shared amenities. If you'd rather get a room, their rooms are also quite inexpensive at ¥4,400 a night, or ¥3,300 for students. Remember to present a student ID for proof!
Address: 4-14-9 Kotobuki, Taito-ku, Tokyo
Access: Asakusa Station
Phone: 03-3847-4477
Check-in: 4:00 pm | Check-out: 10:00 am
6. Capsule Value Kanda
Located near Akihabara, Capsule Value Kanda is owned by the same people behind Shinjuku Kuyakusho-mae Capsule Hotel. Its price range is similar, and you can also expect the same quality of rooms and facilities. A standard room costs ¥2,900-3,400 a night, but they also have discounts and promos. Those under 30 can get a room for ¥2,400-2,900 a night, as long as proof of age can be shown. The first 7 guests to book on any given day can get a room for only ¥2,100. Moreover, those who book online can get ¥100 off their reservation. Like their sister hotel in Shinjuku, all rooms have Wi-Fi and power outlets.
Address: 1-4-5 Kajicho, Chiyoda-ku, Tokyo
Access: Kanda Station
Phone: 03-6206-0724
Check-in: 10:00 am | Check-out: 10:00 am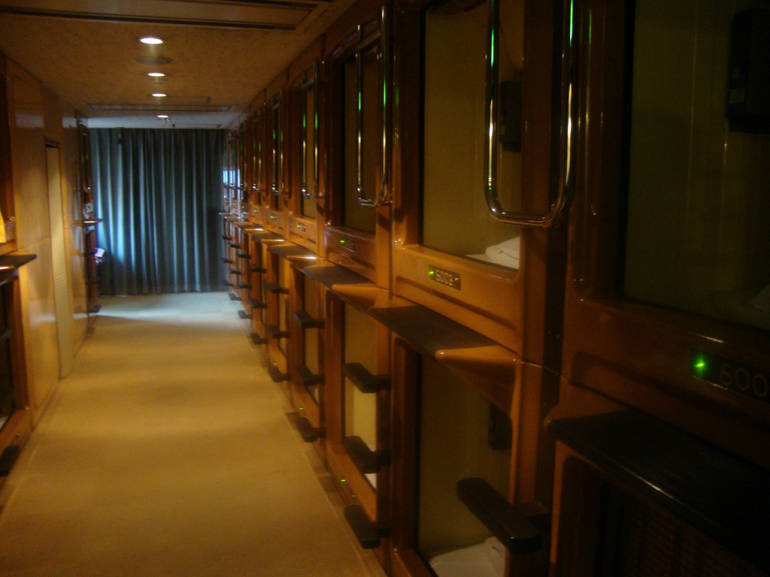 Photo by Joanne and Matt used under CC
Read more and see maps at Tokyo Cheapo