Christmas is a strange time. It's all the kitsch and the shopping minus the religion (or at least, the pretense of the religious).
In fact, Christmas Eve is the bigger event. It's a day when people queues for hours in the cold for KFC chicken — no one seems to know why — and go on romantic dates in the evening, usually capped off with a liaison at a love hotel. Forget the baby Jesus: Christmas Eve is for couples. And given that Valentine's Day in February and White Day in March are not exclusively for couples — it is customary to give all your male or female colleagues chocolates too — then Eve is the real time for lovers to show their affection for each other.
But what if you don't have a special someone to snuggle up to?
There's an app for that.
Kisu shiyo! (Let's kiss) is an Android app for the lonely but cunning guys out there. At first glance it looks like a fortune-telling app, which are very popular with Japanese girls. You show it to a girl you like and tell them it will make her wishes come true. All she has to do is blow out the candle in the picture.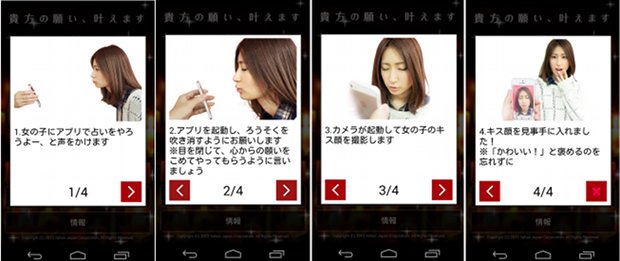 The app is actually a ploy so you can then take a photo of the cutie blowing towards the lens, which of course looks not unlike the girl ready for you to plant a smacker on her lips.
You then have yourself a commemorative image with which to spend your Christmas Eve this year. The girl will no doubt be furious when she hears the sound of the phone's camera, so the app makers advise you not to forget to praise the girl for how cute she is!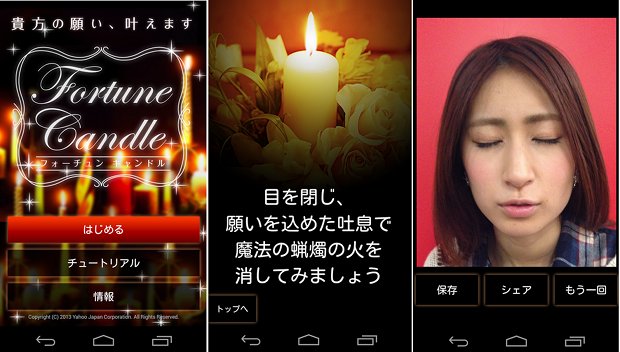 OK, politically correct it certainly is not, but it is a novel way to ensure you are not alone this Christmas Eve.
No surprises here — the app was "invented" by 2ch netizens and spotted by Yahoo app developers, who then quickly turned it into a real app.