Japan has always loved both technology and monozukuri craftsmanship.
So it comes as no surprised that Japan has fallen in love with 3D printing, even if it has meant artists have to watch what they do with it, especially female artists, and some people have been exploiting the technology to create firearms. 3D printers and related services are exploding, and now Japan is ahead of the curve in many ways. The world's first 3D printing photo booth opened (temporarily) in Tokyo in late 2012 at Eye of Gyre.
Sometimes the craze has resulted in some more, well, grotesque variations, such as the gummy replicas of yourself that FabCafe had for a while in Shibuya.
Previously we also saw Clone Factory offer services where they put a 3D printing of your face onto a doll. Talk about entering Japan's uncanny valley.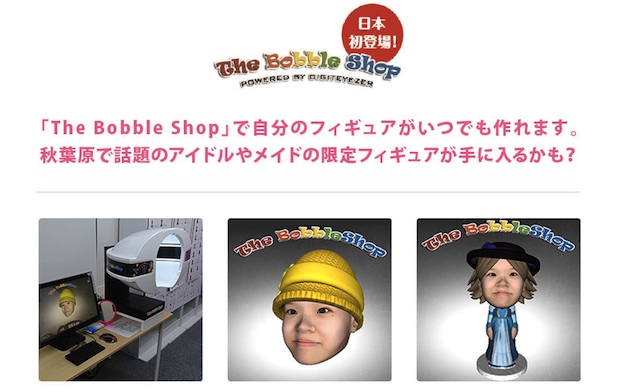 Well, now you can create your own 3D figure of yourself (surely less narcissistic than it sounds!) at the aptly named Create Me. Though this time it's not the hipsters of Shibuya and Omotesando, Create Me is located in the more low-brow district of Akihabara, also one of Tokyo's most creative and energetic neighborhoods on a grassroots level.
It actually opened in mid-August but is now starting to get some press attention. Create Me uses The Bobble Shop, a 3D figure-making system that scans your face in five seconds. It's the first use of The Bobble Shop's system in Japan, which employs tech original developed by France's Digiteyezer.
Then you can customize how you want your hair and clothes. Unfortunately you can't (yet) pick up your own "mini me" right there and then, though you should be able to collect your 3D figure in between 10 days and two weeks.
The detail is very good but the figures are also quite delicate, though, being hollow, they are at least very light.
A mask costs just ¥1,500 (under $15) and a full figure ¥3,000 (under $30), with some customization options costing extra.
Right now the system mostly has the clothes and so on that came with the overseas system, though the company running Create Me hopes to increase its original items in the future to better suit Japanese customers' tastes. Copyright laws allowing, we predict some anime character cosplay items being on the menu very soon!
We're certainly looking forward to what the inventive folk of Akiba have in store for Create Me.