Demon Slayer: Kimetsu no Yaiba only came up less than five years ago – on February 2016, to be exact – and its premise doesn't seem that different from dozens of other manga/anime: a brother and a sister, demons, demon-slayers swords (the literal translation of the title is "demon-destroying sword"), transformations, secret societies, fights between good and evil, drama, and revenge.
It was produced by Weekly Shonen Jump, the manga hit-making machine responsible among other things for One Piece, Naruto, Dragon Ball, Rurouni Kenshin, Yu-Gi-Oh, and Hokuto no Ken (Fist of the North Star), and apparently there was something more to it than the usual mix of swords and monsters so as of this writing it has over 120 million copies in circulation, 23 albums, 26 episodes of the anime series, and now a full-length anime film.
Especially in the months leading to the October release of the film (Demon Slayer: Kimetsu no Yaiba the Movie: Mugen Train) in Japan and even more after it, Demon Slayer: Kimetsu no Yaiba has become a huge thing in Japan. To the extent that there's no convenience store that doesn't feature its logo in at least two of its products, most probably completely unrelated to the manga or swords or, hopefully, demons. If you are a fan of the series (yes, it is gaining more and more fans overseas as well) here are some of those products you can find and order (and have delivered anywhere in the world) at Japan Trend Shop.
Demon Slayer: Kimetsu no Yaiba Tamagotchi
Like the next two, this is a Demon Slayer: Kimetsu no Yaiba variation of the Tamagotchi theme. Do you remember the Tamagotchi, the digital "pets" from toy company Bandai that were all the rage 25 years ago? They are still very much alive in Japan and can be found in many different versions (44, to be exact), all involving taking care of a creature living inside the small egg-shaped gadget. In the case of Demon Slayer Kimetsu no Yaiba Tamagotchi series, the creatures are nine characters from the manga and you don't just feed them: you also train them to become fearless demon slayers. In this first model, you can choose between three different looks, the black and purple wisteria pattern for the Demon Slaying Corps, the green checkered for the lead character Tanjiro, and the brown for his sister Nezuko.
Demon Slayer: Kimetsu no Yaiba Tamagotchi Zenitsu
The Demon Slayer: Kimetsu no Yaiba Tamagotchi Zenitsu is the second generation of Tamagotchi inspired by the popular manga and this time it takes its looks from Zenitsu Agatsuma, one of the traveling companions of Tanjiro in his quest to avenge his family and free his sister from the demon curse. You can feed him and train him to overcome his fears and become the slayer he can be, and enjoy the bright yellow and white pattern of his jacket on the Tamagotchi's shell.
Demon Slayer: Kimetsu no Yaiba Tamagotchi Inosuke
Boar-masked demon slayer Inosuke Hashibira has become one of the most popular members of the Demon Slayer Corps. Between his jagged-edge swords, flexibility, and skills in hand-to-hand combat, he is one of the fans' favorites, so it is fitting that he'd have his own Tamagotchi, complete with a shell featuring his face as a boar. Here too, regular Tamagotchi rules apply: you must take care of him and make sure he is in shape (there are three games you can have him play so he can practice his skills). Otherwise, he will be prone to injuries – remember he has to fight demons!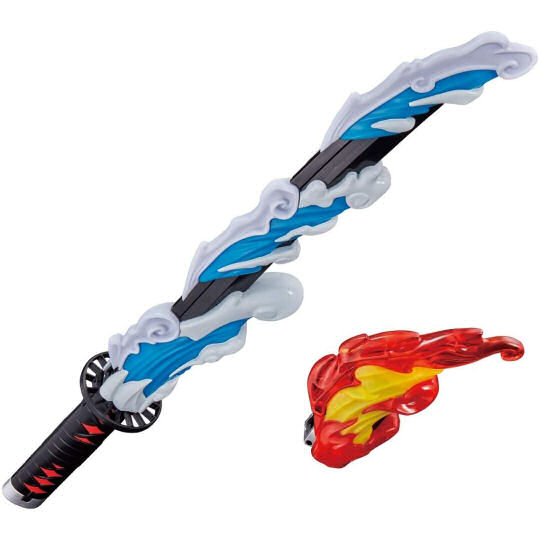 Demon Slayer: Kimetsu no Yaiba Deluxe Nichirinto Blade
The Deluxe Nichirinto Blade is different: it's also a toy and also comes from Bandai but since Demon Slayer: Kimetsu no Yaiba is essentially chambara (sword-fighting), it is a sword. And not just any sword but one showcasing the breathing styles Hinokami Kagura (Dance of the Fire God) and Mizu no Kokyu (Water Breathing) that make the Dragon Slayers invincible! It comes with two blade parts, one for each of the styles and every time you move, it makes sounds and plays recorded phrases from the anime – over 50 of them. Just add batteries (it takes 2 x AAA – not included) and recreate some scenes from Dragon Slayer: Kimetsu no Yaiba!
We'll probably revisit Demon Slayer: Kimetsu no Yaiba. The original manga has finished but it doesn't look like it's going away any time soon. Japan Trend Shop always looks for products that are both exiting and give a snapshot of what is on in Japan at any given time, and there's little doubt that Demon Slayer: Kimetsu no Yaiba is going to be as big as One Piece or Naruto. Or even bigger!