A new suit shop opens October 1st in Aoyama, offering bespoke clothing that can be ordered and customized from your phone. The oddly named Difference has created its own phone app in order to realize the "virtual tailor" service, which is available for customers ordering their second suit.
Despite the Japanese-English name, Difference comes with a certain pedigree: it is designed and produced by Kashiwa Sato, the creative director known for his famous logo and product design work for the likes of DoCoMo, UNIQLO and 7-Eleven, as well as retail spaces, such as the Rakuten Ichiba Cafe in Shibuya.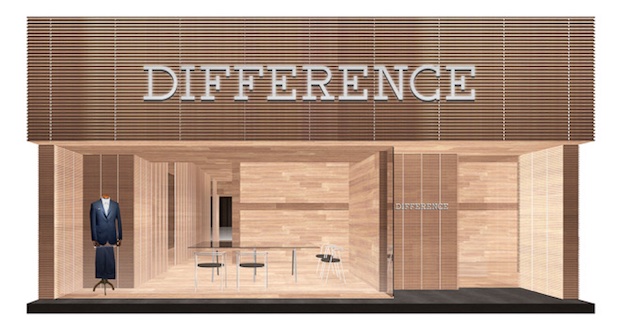 Customers install the dedicated app and update it with information on their size. After their first bespoke experience at Difference, they can then order follow-up suits from the convenience of their handset, choosing designs and colors to match their specs. The entire process happens within the confines of the device, meaning there is no need to go back to the physical store. The finished suit is then delivered after around 2 weeks.
A service for women will also be launched simultaneously, directed by the stylist Fumiko Tokuhara. Suits for both men and women start at ¥35,000.
Difference is operated by Konaka Co., Ltd., a retailer with a chain of 356 suit stores. Adding another name to the roster of big guns associated with the new service, the website and phone app is designed by Yugo Nakamura of tha ltd.