Intergalactic bonsai!
Just when you thought there couldn't be any more innovations on past traditions, along comes something that makes your jaw drop.
Makoto Azuma, known for his eye-catching botanical art work such as the greenery sculptures that decorated Shinjuku's Isetan Department Store when it reopened in 2013, has taken things to the next level, stratospherically speaking.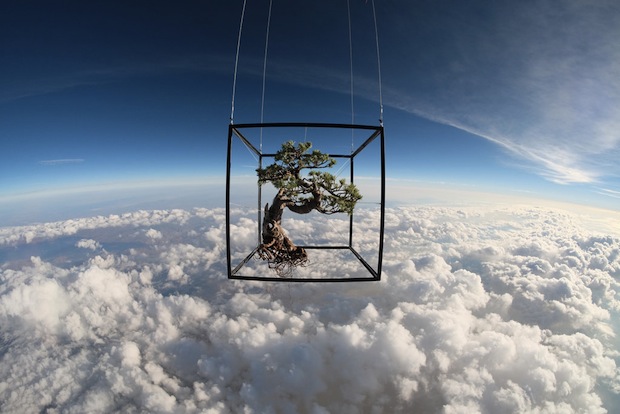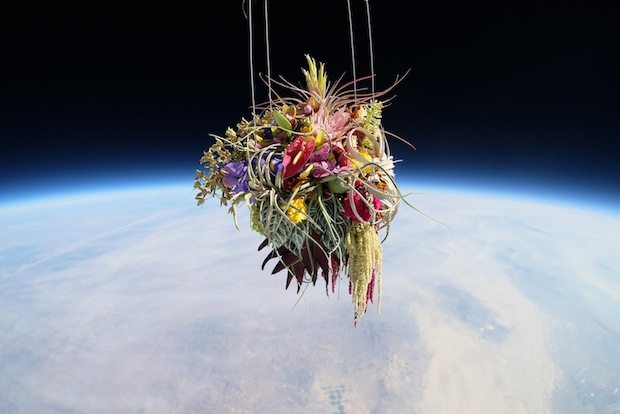 While he has previous suspended bonsai in the air, this time round he actually launched a new piece called Exbiotanica into space. The two botanical objects were sent where no plant had gone before from a special site in Black Rock Desert outside Gerlach, Nevada, on July 15th.
According to Spoon Tamago, Azuma and his ten-man crew, along with help from JP Aerospace (despite the name, actually US-based) and Fujifilm (thanks for the great images!), launched a version of his Japanese white pine work "Shiki" and an untitled flower bouquet into space using a helium balloon.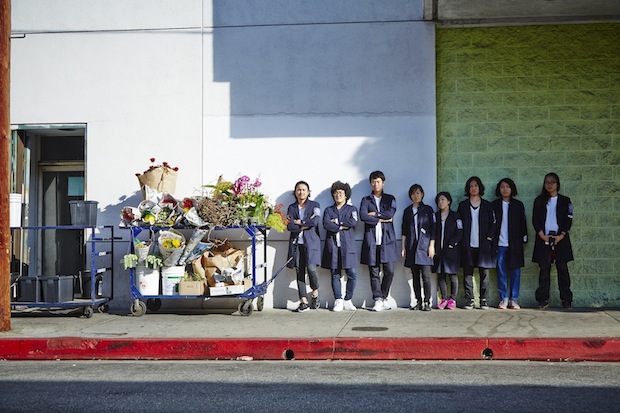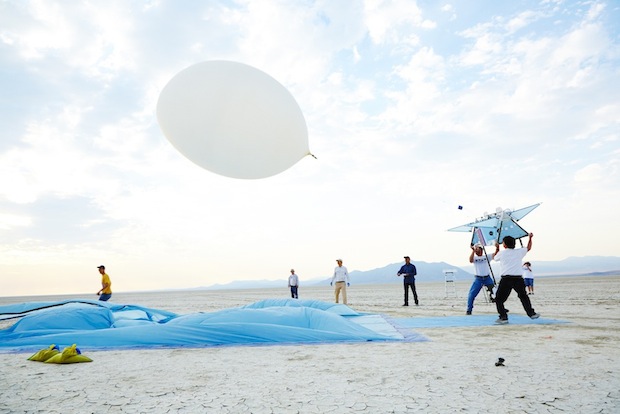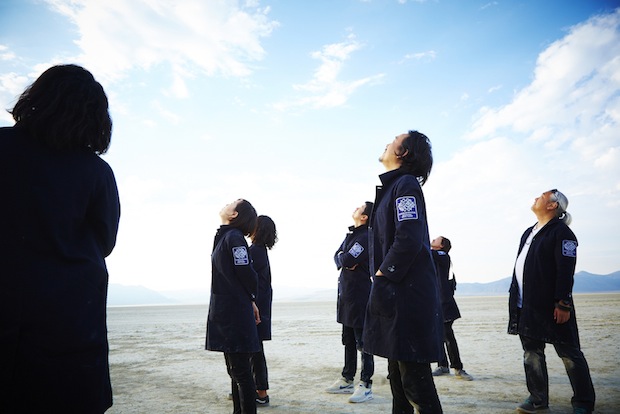 T Magazine describe the launch:
The expedition started in the dead of night, at 2 a.m. One hour later, Makoto was already building a bouquet with about 30 varieties of flowers. He started with an aerial plant tied to a six-rod axis and studiously added peace lilies, poppy seed pods, dahlias, hydrangeas, orchids, bromeliads and a meaty burgundy heliconia. "I am using brightly colored flowers from around the world so that they contrast against the darkness of space," he said.

The scent of the flowers was stronger and more concentrated in the dry desert breeze than in their humid, natural environments, and the launch site was redolent with their perfume. Makoto worked quietly, until the metal rods were covered completely with plants. Then he directed his attention to his bonsai. For this particular project, Makoto chose a 50-year-old pine from his collection of more than 100 specimens, and flew it over from Tokyo in a special box. While readying it for space, he kept it moist and removed a few brown needles with a tweezer.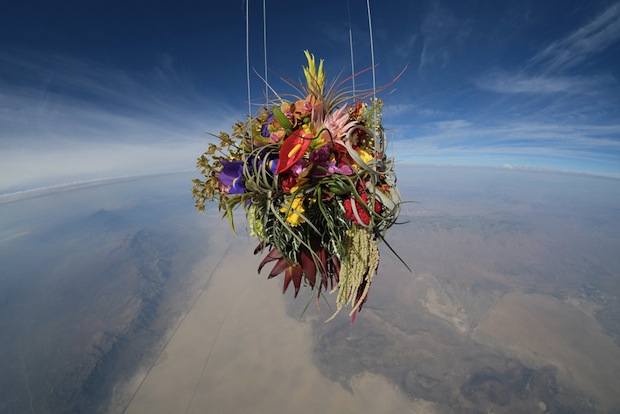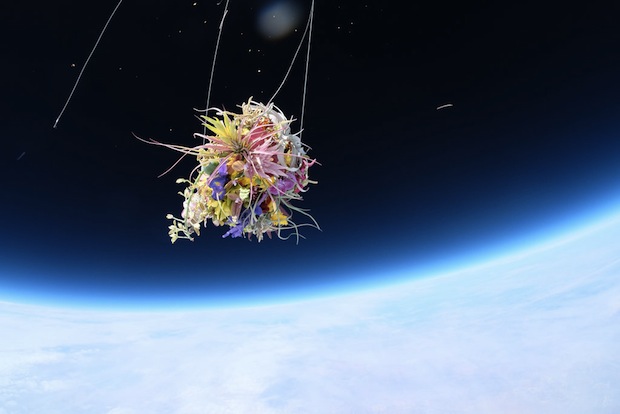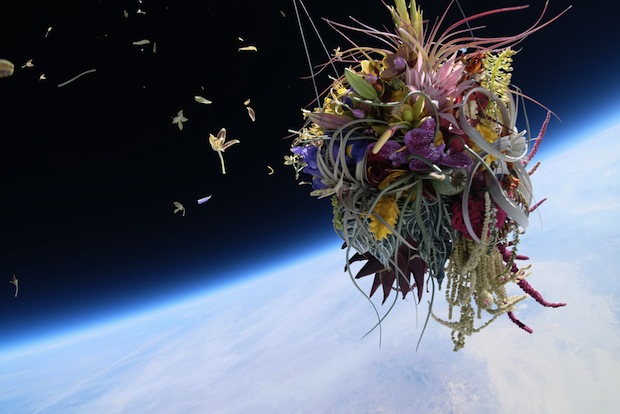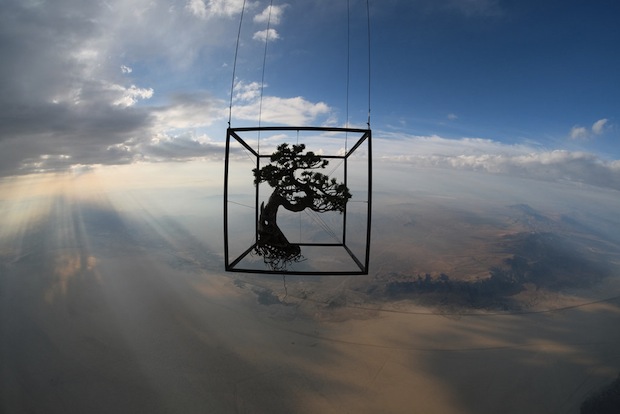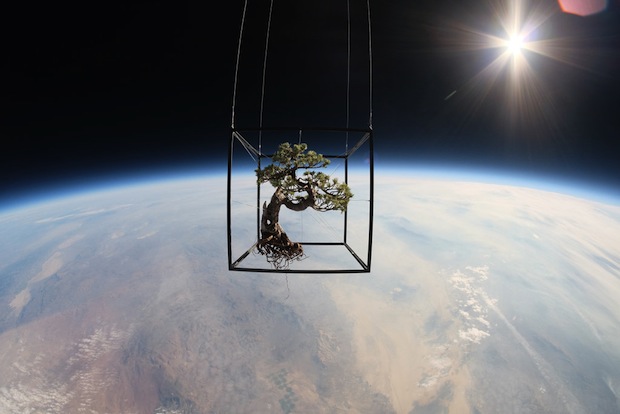 The two helium balloons went up in the early morning, both covering the same flight path. The helium balloons then burst at around 90,000 feet and parachutes softened the impact after the two vessels fell back to earth. Sadly the dangling bonsai and the flower bouquet both disintegrated during the fall. The vessels returned safely but alas, not the foliage.