It's amazing what people will try to get some relief from bad weather. I mean who would have thought that having what is, essentially, pasta flowing in cold water through bamboo tubes cut in half and trying to grab it with chopsticks would be an effective measure against heat and humidity? The Japanese, that's who! Starting in Kagoshima Prefecture, on the island of Kyushu, the southernmost of Japan's Big Four, apparently some time in the late 1950s to early 1960s, "somen nagashi" or "flowing very thin wheat noodles" was apparently a way to exploit and make a spectacle (and tourist trap) out of a local gorge, Tosenkyo, gushing up to 100,000 tons of fresh cold water every day.
Some unnamed local genius had the idea to set up a bamboo chute using the gorge's water, let freshly boiled somen flow down with it, and have people try to catch and then eat the noodles after dipping them in tsuyu, a light sauce made with katsuobushi (dried bonito flakes), soy sauce, and sweet mirin sake. The combination of chilly somen and game made the somen nagashi idea catch on and dozens of restaurants popped up all over Japan, not always near natural springs (there was enough technology available to create artificial water flows for making the somen go round) and even became an attraction in summer festivals where you can have a few servings with a couple of hundred yen (a couple of dollars).
What happens if you aren't in Japan, don't have easy access to a restaurant or a festival like this, but you want to add a touch of Japanese summer to your table? Try one of the following gadgets, all available from Japan Trend Shop and deliverable anywhere in the world. They are the next best thing!
1. Entry level: Furyu Kiwami Nagashi Somen Slider
Simple to assemble and even looking a little like a real bamboo nagashi chute the Furyu Kiwami is perfect if you want to try chasing noodles but you aren't sure about your chopstick skills. A swirl in the top and then a mild, slope with two turns allows you to practice your somen nagashi. Good for at least 30-40 minutes of fun on one set of two C and one set of two D batteries its a good way to start exploring the world of somen nagashi.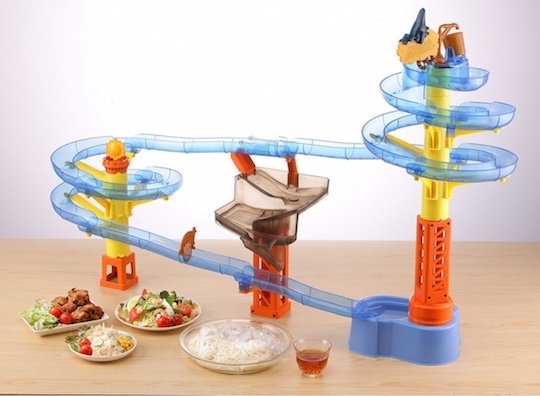 2. Advanced level: Big Stream Nagashi Somen Slider Extra Jumbo
If you have already tried somen nagashi and you are feeling comfortable with your chopsticks, try something more spectacular: the Big Stream! With a height of 73 cm (29″) and a total length of 5 m (16.4 ft), with one three-level and one two-level swirl and even an alternative route for the cascading noodles, this nagashi takes fun to the next level. And it's bright and colorful so if you decide to introduce your children to the world of noodle-fishing, they'll certainly love to join!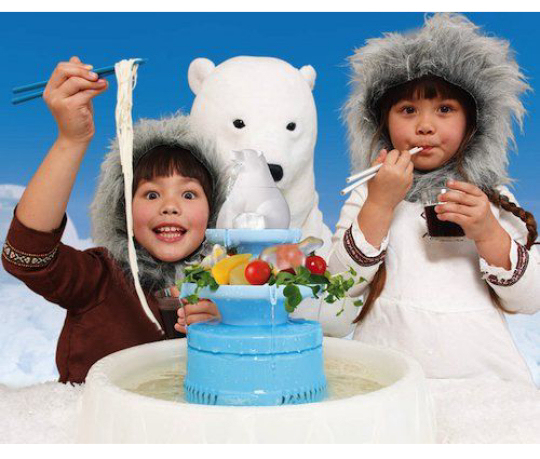 3. Children level: Cho-hiehie North Pole Nagashi Somen Noodle Fountain
Speaking of children, if you really want to make yours to love somen you should definitely consider the Cho-hiehie North Pole. More of a fountain of cold water, this keeps the somen in the pool in the bottom, allowing your kids to pick them up more easily. To add another level of fun, it comes with an ice tray to make ice cubes in the shape of penguins, polar bears, and icebergs, and add them here and there for that polar effect. North Pole, South Pole, it's all cho-hiehie (super cold), right?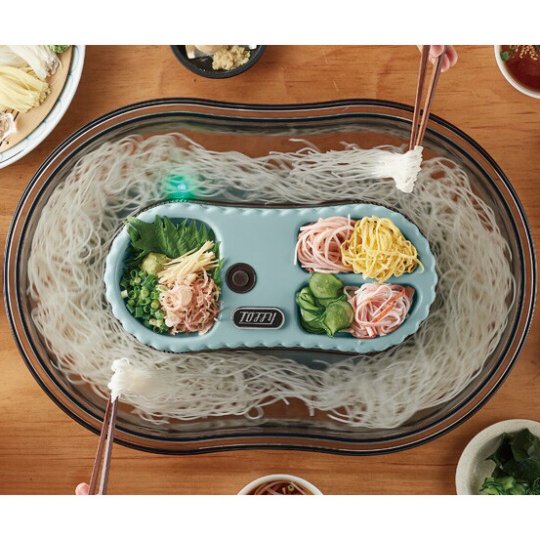 4. Minimal level: Toffy Mini Nagashi Somen Slider
And then there's you who just want the sensation of fresh somen in cold water and don't have much space to set up a whole theme park. Your answer is the Toffy Mini Nagashi Somen Slider, which doesn't even need assembly: you just add two D alkaline batteries or, if you want to make it a little more romantic, another four AAA alkaline batteries for its LED light show, along with some water and the somen noodles. Then just hit "Play" for the noodles to start going round and round. Oh and it comes in two colors (pale aqua and ash white), so it won't clash with your space!
Four solutions aka four ways to enjoy your some noodles. Choose the one that suits you best and have a lunch or dinner with family or friends that combines food and play in a very Japanese summery way!