One of the many contradictions that make Japan such an interesting place is the mix of sophistication and simplicity. Take summer desserts, for example: every summer, in confectioneries all over Tokyo you can find amazingly complicated gastronomical experiments with fruits, ice creams, cakes, and baked goods — and with appearances that match the taste in grandeur. Still, if you ask any Japanese what is the first thing that comes to their mind when they hear the words "summer" and "dessert" together, the answer will invariably be "kakigori," shaved ice flavored with syrup, served in a paper cup, and eaten with a flattened plastic straw.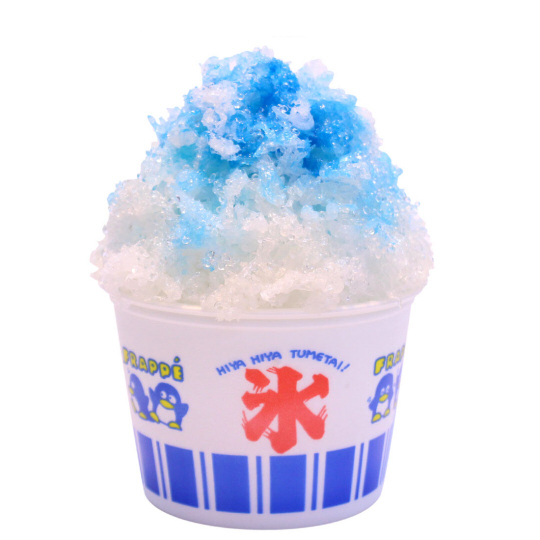 Easy to make and with countless flavors — just conjure up syrup from your favorite fruit and pour it over the ice shavings. Kakigori can be found in specialist shops all over Japan, in food stalls at festivals and fairs, and at posh confectionery shops (in various exotic incarnations featuring, among other things, matcha green tea, red azuki beans, or ice cream). Or you can make it at home, using one of the following devices ranging from the simple to the retro, manual, and modern electric and automatic. Pick the one you like and add some ice and imagination!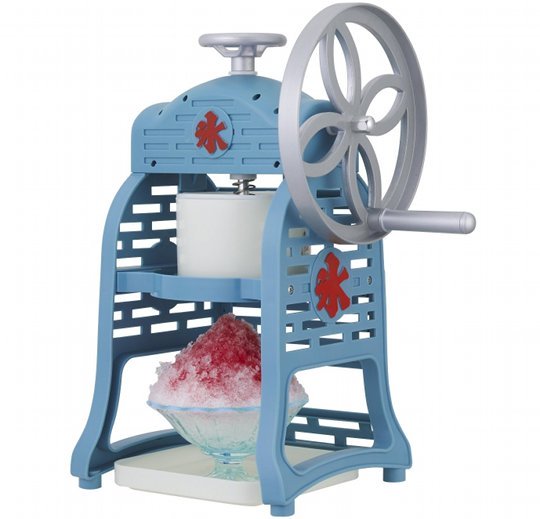 1. Retro Kakigori Shaved Ice Maker
With looks echoing the early 20th century (Taisho and Showa periods) and operation as easy as can be, you just put the ice in and turn the handle. This is the machine that most Japanese would think of when they hear the word "kakigori." Its blue color with the red character for ice (氷) alone is enough to evoke images of summer festivals and people with light cotton kimono (yukata). If you are looking for the quintessential kakigori machine, this is it!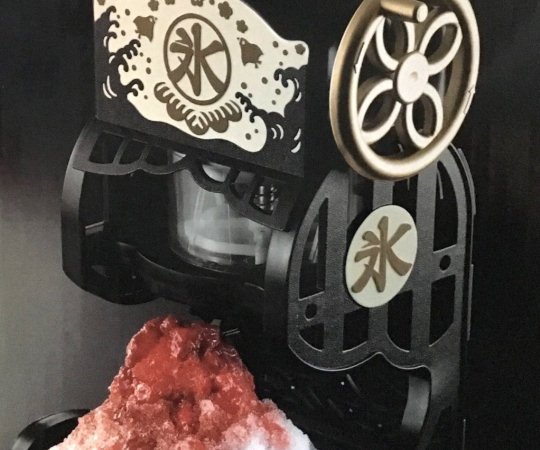 2. Electric Kakigori Japanese Shaved Ice
And then there are times that you want both the looks and the comfort of the later 20th century, i.e. an electric kakigori maker. For those times, this is the machine you need. The same design (but this time in black) and with the crank wheels and the character for ice, but with a cable that you can plug into any AC 100-volt outlet and with adjustable blades for extra fine shaving. If you want the best of both worlds in your kakigori machine, you need look no further.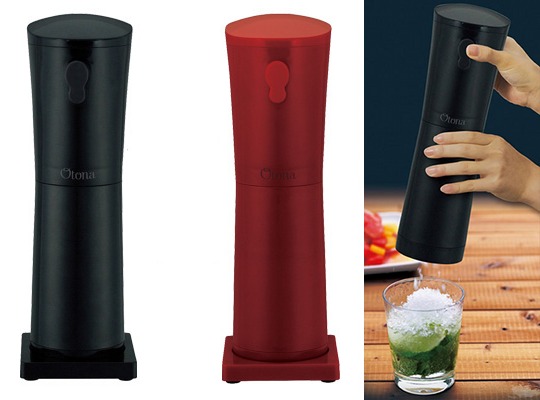 3. Otona Kakigori Automatic Shaved Ice Maker
The Otona Kakigori is the first choice for those who have moved on from tradition but still want a touch of Japanese design. Shaped as a pepper mill and in two modern colors (red and black), this is your solution if you want to focus on the taste and keep the operation to just putting in ice cubes and pushing a button. And if you want it for a more otona ("adult") use, it will crush the ice for your mojito or julep with the same ease and finesse.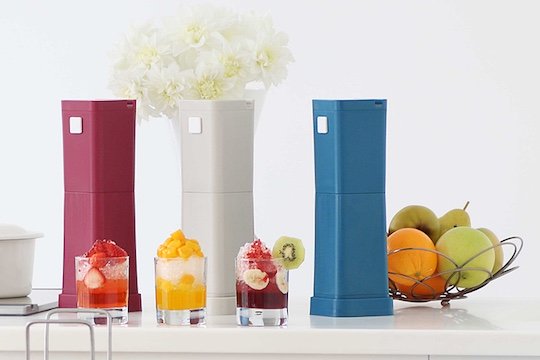 4. Prismate Automatic Shaved Ice Maker
One more proposition in the "just-one-button-but-with-style" category, the aluminum Prismate Automatic Shaved Ice Maker will become the centerpiece of your kitchen with its three colors (ivory, red, and blue) and angular design. Like the Otona machine above, it opens in two, so you can put in the ice cubes (no container to fill with water) and then you hold it over your favorite bowl — or glass, if you are going for the cocktail option — and…let it snow! Even a child can operate it and there's no doubt that yours will love the results.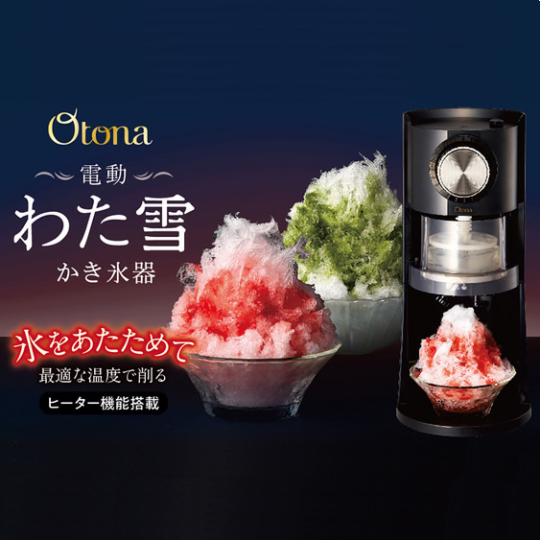 5. Watayuki Electric Kakigori Machine
The Watayuki is the flagship of kakigori machines. Besides ease of use, you have an extra mechanism that warms the ice enough to make it extra fluffy and come as close as you can get to actual snow! There is a small trade-off in that it doesn't take ice cubes — i.e., you need to make your own ice using the containers that come with it — but the result will match what you'd get at a professional kakigori-ya shop in the old neighborhoods of east Tokyo!
So there you have it: five different choices that will all satisfy your craving for shaved ice and a Japanese summer. Oh, and if you feel like giving your kakigori something extra, try the Ice Cream Dessert Soy Sauce made by soy sauce maker Goto Shoyu in Fukuoka for just that purpose!