Two of the best things about summer in Japan are the fireworks and the ice cream. Whether it is classic shaved ice kakigori desserts or any of the fantastic Japanese flavors like adzuki or matcha that can transform into refreshing ice cream snacks, the convenience store freezer corner truly seems to come alive during the summer months.
Häagen-Dazs has successfully developed many localized flavors and varieties for the Japanese market. It recently combined this approach with an event capturing the spirit of summer at a special pop-up venue in Tokyo.
The Hanabi Bar (literally, Fireworks Bar) opened on the Tokyo City View observation deck on the 52nd floor of the Roppongi Hills Mori Tower, offering incredible views of the city from 250 meters above sea level.
And if the cityscape was not impressive enough for visitors to the deck, there was also projection mapping of fireworks. The pyrotechnic display lasts five minutes and runs four times an hour between 7pm and 10:30pm each night.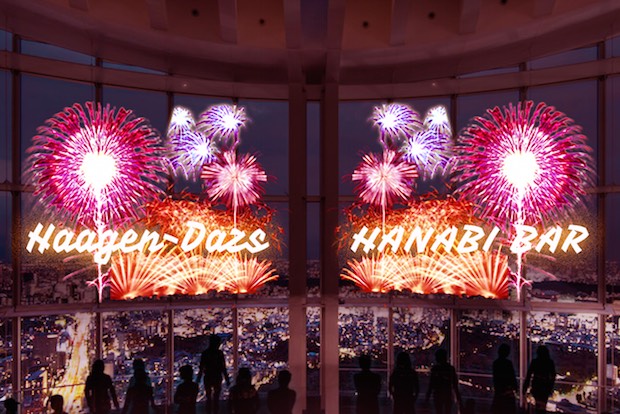 Hanabi Bar was open from May 31st to June 3rd. Samples of a new seasonal flavor of Häagen-Dazs, the Peach and Berry Juicy Bar, were also available at the venue ahead of its general release on June 5th. The first 50 visitors who arrived in pink clothing received free admission to the observation deck.
There was a cool interactive element to the Hanabi Bar, too. Customers could put the sticks from their finished ice cream bar samples into a box, which would then generate a digital firework display of their own.
This isn't the first time that Häagen-Dazs has adopted this kind of marketing approach. Last year it opened an ice cream cocktail lounge in Tokyo.