Now this is going to be fast.
Kyodo News has reported that Central Japan Railway Co. (JR Tokai) has formally filed an application today with the Japanese transport ministry to build a maglev (magnetically levitated train) line between Tokyo and Nagoya.
Maglevs in Japan go back to the 1980's. There are two trains, HSST by Japan Airlines and SCMaglev by the Central Japan Railway Company. The HSST train uses imported German technology, making the SCMaglev Japan's only real homegrown maglev. One of the HSST models is the popular Linimo train, built for the 2005 Expo in Aichi, though it is relatively slow by maglev standards.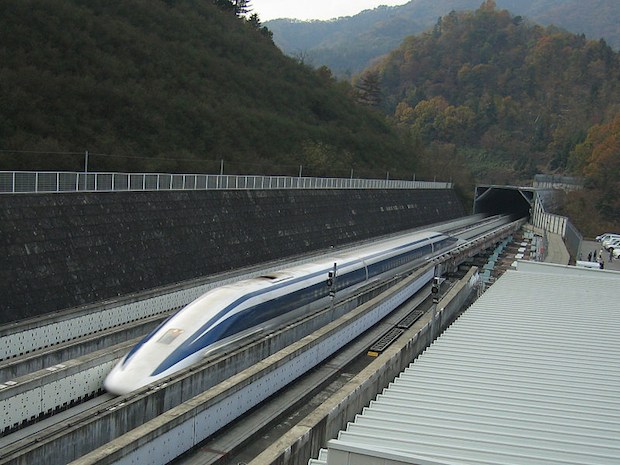 JR Tokai's SCMaglev (Superconducting Maglev) started development back in 1969 but went through a radical redesign in time for a new test in 1987. Tests have been continuing on special tracks in Miyazaki and Yamanashi. In 2003 the SCMaglev achieved record speeds of 581 km/h (361 mph). The government deemed it ready for commercial rollout in 2009 and since then plans have been proceeding for the new linking the capital and Japan's third city, to be followed by a further line connecting Nagoya with Osaka by 2045.
If the Land, Infrastructure, Transport and Tourism Ministry give the go-ahead, JR Tokai may start building the new SCMaglev in October, though we will have to wait until at least 2027 before the actual line is operational! But if that sounds like a long time to twiddle your thumbs, then consider how time you (or your kids) will save hopping from Tokyo to Nagoya in the future. As we know, the Shinkansen bullet train is fast. But this maglev will cut the 100 minutes that express takes down to a mere 40! Once extended to Osaka, a trip between Tokyo and Kansai will be just over an hour.
The cost of the construction of what may be the world's fastest train is estimated at ¥9 trillion.
JR Tokai and Prime Minister Shinzo Abe also hope that the SCMaglev will be adopted in America as an intercity system fit to meet the challenges of such a vast nation.