Japan Rail knows how to attract customers. In between rolling out snazzy new bullet trains and other technological advances, it periodically customizes JR Yamanote Line trains to look like a chocolate product or a manga and anime franchise.
From September, a special Hello Kitty Wakayama Train will be running on JR lines as part of its Wakayama Destination Campaign. The sightseeing train will be an express with all seats reserved.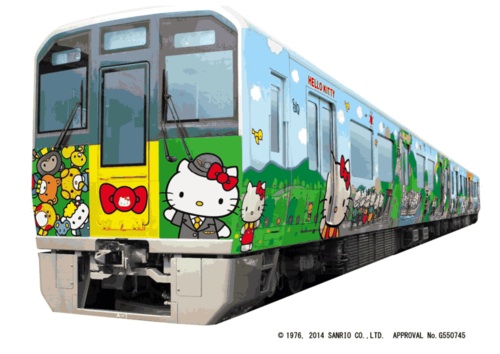 JR has consulted with locals and got advice about the sightseeing spots to include on the design. The prefecture is famed for the sacred sites and pilgrimage routes in the Kii Mountain Range, a UNESCO World Heritage site for ten years now. Southern Wakayama is also home to Taiji, one of the (controversial) centers of Japanese traditional coastal whaling and dolphin hunting, and its Whale Museum is on of the tourist destinations featured on the train, along with a uniformed Hello Kitty.
The interior of the train will also be painted with characters but the design has yet to be announced.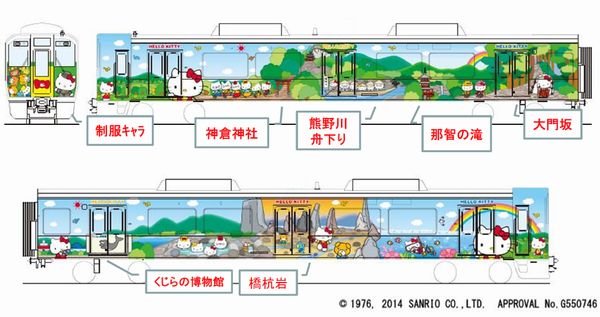 Although JR West is trying to push how it has worked hard to find a design that shows off the locality of the region, we have yet to find a tangible reason for the choice of Hello Kitty other than her apparently universal popularity (after all, Kitty-chan is not even Japanese, she is meant to be British). Perhaps someone can enlighten us? Sanrio, never afraid to license out its character to all and sundry, must be happy with the extra coffers, though.
The Hello Kitty Wakayama Train will be running for 33 days on weekends and holidays from September 13th to December 14th, 2014.
Wakayama must have a thing for felines and locomotives. The fortunes of the small Kishigawa Line were famously reversed by the promotion of Tama the cat to station master.