JR West has announced a special new tourism train that will run between Kanazawa and Wakura hot spring in 2015.
Kanazawa, known as a "mini Kyoto", is the main city in Ishikawa Prefecture, which sticks out on the west coast of Japan in the Hokuriku region. The prefecture is famed for its sushi, kimono dyeing, lacquerware, gold leaf, and other traditional crafts. Along with Kanazawa, another major center for the arts is Wajima, a small city located further along the Noto peninsular.
Not surprisingly then, the new JR West train's interior and exterior is inspired by the wa and bi (Japanese beauty) of Wajima lacquer and Kaga Yuzen, a local kimono silk fabric dyeing technique (Kaga was the old samurai domain when the Maeda clan ruled Ishikawa before the Meiji Restoration).
The crafts train starts running in October 2015. It has capacity for 52 passengers in two carriages, including private cabins. The carriages are differently designed, either with Wajima lacquer or Kaga Yuzen themes. It will run for around 150 days a year on weekends and holidays.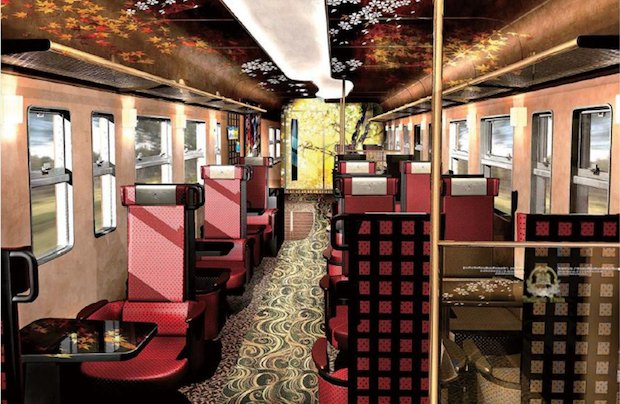 JR often creates special trains for sightseeing lines. Along with Japanese prefectures' penchant for yuru-kyara mascots, it is one of the most successful tactics for luring local tourists. They go as much for the experience of the transportation — whether it be kitsch or luxury — as to visit the place itself. JR West also recently teamed up with Sanrio to create a Hello Kitty locomotive for Wakayama Prefecture.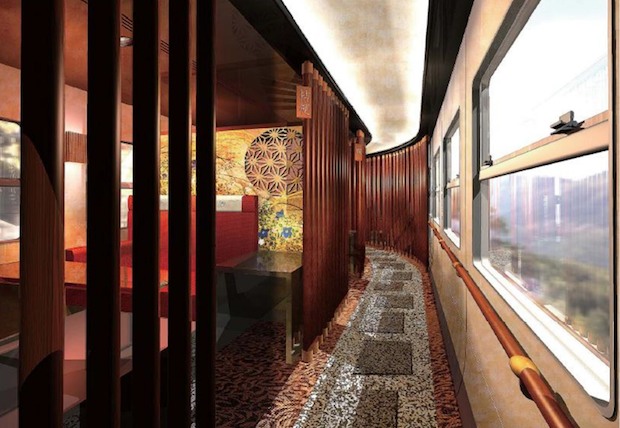 Kanazawa is anticipating a huge boost to its already fairly large tourism industry when the extension of the Shinkansen bullet train from Nagano to Kanazawa opens in spring 2015. While Kansai sightseers can take the Thunderbird express from Osaka to Kanazawa, until now Kanto folk had no equivalent and usually change in Niigata to the slower coastal train that passes down through Niigata, Toyama to Ishikawa. With the Shinkansen, they will be able to take one express from Tokyo straight to Kanazawa.
[Via
Nippon.com
]