Japan is currently enjoying a massive boom in inbound tourism, set to continue through the Rugby World Cup and at least until the 2020 Olympic Games in Tokyo next summer.
One issue, however, with investing heavily in attracting more tourists is the adverse side effects: from increased trash and people on public transport to the lack of hotel capacity, a sudden flood of tourists is not always such a good thing for locals.
A particularly delicate issue is manners. Different cultures have different attitudes towards social niceties, though the adage of "when in Rome…" is usually a safe rule to follow.
People visiting a place like Kyoto inevitably want to see some of its iconic sights, so who can blame them for snapping an Instagrammble shot of a geisha walking in Gion? But Kyoto being Kyoto and always treading a thin line between snobby towards outsiders and eager for their yen, the authorities have taken an unusually proactive approach in trying to teach tourists better manners in the Gion district.
During a trial currently being conducted in the neighborhood, smartphones of tourists will receive push notifications with information about what is not considered acceptable behavior. One of the list of major offenses is taking photos without permission. The system works with smartphones that have installed a particular sightseeing app.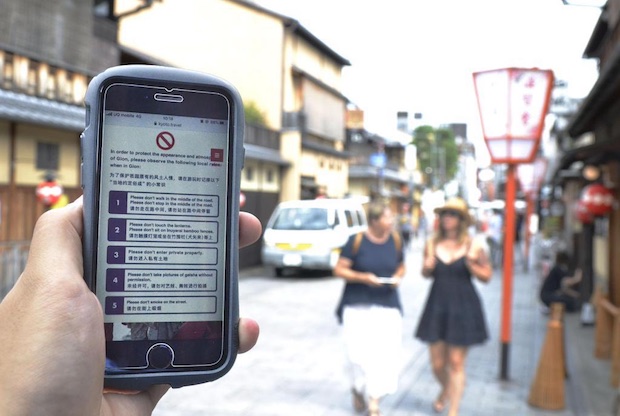 The trial started on September 30th, prompted by a complaint by local residents in March, and is specifically aimed at tackling both tourist manners towards geisha and the problem of pedestrian crowding in Gion, which makes it dangerous for cars to pass. Multilingual posters have also been displayed, informing people that smoking on the street is banned and other activities like touching lanterns, entering private property, and sitting on fences is also forbidden. As if that wasn't enough, security cameras are also in operation in the area.
The trial will run until December 8th, after which the results will be assessed through surveys of residents and analysis of security camera footage.
Other than Gion, Kyoto's Nishiki Market has also increasingly catered towards tourists in recent years with the result that vendors sell more food to eat on the go, even though the covered alleys of the market are woefully suited for such practices and there are almost no places to dispose of trash.
Tokyo had a similar issue with Tsukji, which the city massively exploited for its potential to pull in visitors even though it is a working fish market and not at all suitable for handling outsiders. The relocation of the market has partly solved the problem, but at the cost of the atmosphere of the original site.
Image via Sankei