The Franco-German artist Benoît Maubrey will create a unique loudspeaker torii shrine gate in Kobe this September as part of the Kobe Biennale.
Maubrey's acoustic shrine gate will be installed in Meriken Park in the waterfront area of the cosmopolitan Kansai city.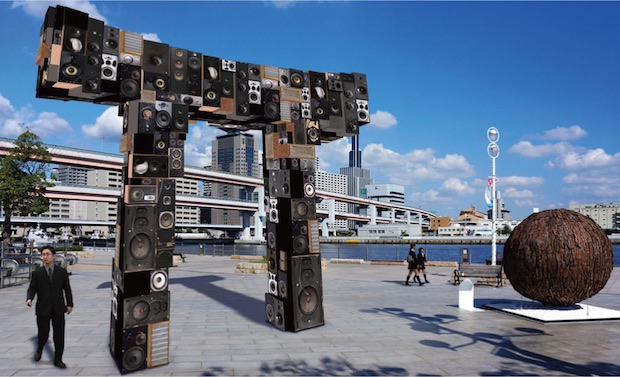 Here's what the organizers say about it.
SHRINE

A torii gate (where the spirits are more likely to hear your prayers)

A public interactive sound sculpture that allows the spectators to express themselves and play music and messages directly through it.

In effect SHRINE functions as a "Speakers Corner" (like in Hyde Park in London) or a social "hub" where people meet by chance. 300 recycled loudspeakers are mounted on a 4-meter high torii gate structure. Four people can simultaneously be connected to a 4-channel speakers system that allows them to express themselves directly via a microphone input or their smart phones with Bluetooth technology.

At the same time the sculpture amplifies "recycled" electromagnetic waves (white noise): the low-volume sounds are permanently hearable as a "background" sound that changes throughout the day. This is the "pulse" of the sculpture. Additionally, SHRINE can also be used as a sound system for concerts, formal occasions and open-air events.
A previous Prix Ars Electronica winner, Maubrey has exhibited in Korea, Austria, Germany, Spain, and more. He is known for his "electroacoustic sculptures".
Maubrey is currently accepting donations of speakers (in any shape, size or condition). He needs 200 to complete the installation. If you have a spare one and want to contribute it to an artwork, you can drop it off at Kobe City Hall!
These days there seems to be a biennale or triennale in every area of Japan. Next year Saitama, of all places, will hosts its first ever triennale!
The Echigo-Tsumari Art Triennale, in many ways the event that kicked off this regional Japanese festival bonanza back in 2000, starts this month. Kyoto held Parasophia earlier this year, while Beppu's equivalent international art festival, Mixed Bathing World, has just started. The Kobe Biennale has been held since 2007. This fifth festival runs from September 19th to November 23rd.