JR East has unveiled the name for the new station on the Yamanote Line, which opens provisionally in spring 2020 and fully by 2024.
The station is to be called Takanawa Gateway, announced the operator on December 4th. The choice has drawn a surprised reaction, not least because it is the only Yamanote Line station to have such a name combining a foreign loanword with a local place name. The other 29 stops have more straightforward, singular names like Shinjuku, Harajuku, Akihabara, or Ikebukuro, or, when there is more than one word, it is a compound with "nishi" (west) or "shin" (new). The mixed katakana-kanji name, when written, is significantly longer than others around the loop.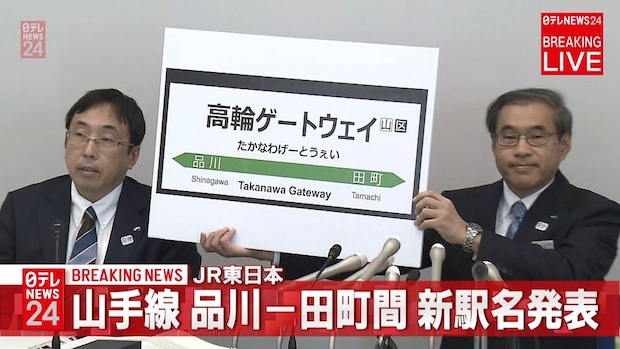 The station, which is designed by architect Kengo Kuma in a bold wooden style, is the first on the Yamanote loop since 1971 and is located between the major hub of Shinagawa Station and the smaller business district of Tamachi Station.
Takanawa is the area around Shinagawa. (In fact, Shinagawa Station already has a Takanawa Exit — thus a Takanawa "gateway" of sorts already exists.) That name came top in the public submissions that JR East accepted for suggestions, receiving 8,398 entries. However, Takanawa Gateway ranked a lowly 130th with a mere 36 entries.
Nonetheless, "gateway" reflects JR's aspirations to turn the new stop into another transport hub where passengers enter and leave the city, given Shinagawa Station's fast access to Haneda Airport and connection to the main Shinkansen line.