Although Japan has a prominent number of police substations around communities, locals often take pride in how their cities generally have less surveillance and security cameras than other major developed nations. While this is not to suggest that Japan values civil liberties more strongly than North America or Europe, it is a sign that privacy is prized and the nation has largely not suffered from the threat of terrorist attacks.
However, Japan recently played host to the G7 summit and is set to host the Rugby World Cup in 2019 and the Summer Olympics in Tokyo in 2020. As such, the government has pushed through its long-in-the-offing "conspiracy bill" ostensibly to help prevent terrorism.
Another measure is introducing security cameras inside the carriages of trains traveling along the Yamanote Line, the JR loop railroad that is a central artery in the Tokyo public transport network and carries a million passengers every day. The cameras will be installed above the display panels by the carriage doors and, in theory, will be removed after the Olympics are over. However, the move raises concerns about increased surveillance in Japan on the pretext of the Olympics and whether theses measures will quietly be allowed to remain in place after the games.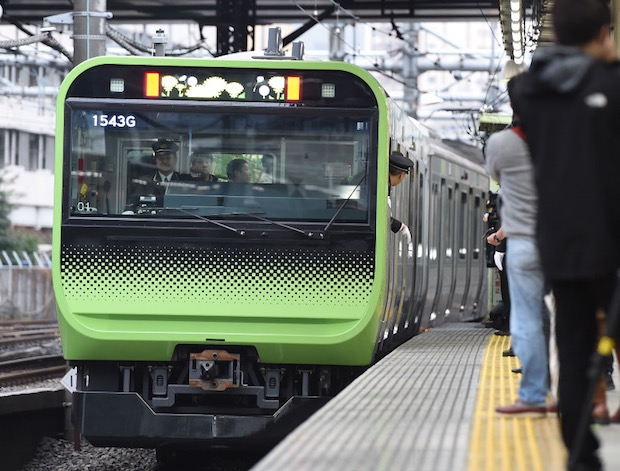 The railway operator will introduce the cameras on 550 train cars starting in the spring of 2018, completing installation in time for the Tokyo Olympics and Paralympics, the Mainichi reports. Installing the system of cameras will cost some ¥2 billion ($18 million).
Again, cameras in metropolitan trains is a familiar custom in other major international cities, such as London. In fact, you might be forgiven for assuming Japanese trains already had them, not least because of the high numbers of groping cases in Japan. This has already led to women-only carriages at rush hour and annual campaigns by rail companies to stamp it out. The issue has become exasperated recently by alleged gropers jumping onto the tracks to escape apprehension, thus endangering lives and causing massive delays.
The problem has also grown so severe that there is a backlash from men fearful of false accusation. As such, there has been a spike in men taking out "groper insurance".
The Japanese shinkansen bullet train already has cameras recording the passenger cabins and other railway operators are also expected to follow suit.