Piko Taro (or PIKOTARO) of "Pen-Pineapple-Apple-Pen" fame has a new song and music video. While Japanese comedian/musician Daimaou Kosaka has struggled, not unexpectedly, to recreate the lofty heights of (wacky) viral success that he suddenly reached with PPAP back in 2016, he continues to try new approaches.
His new song is called "Everyone must die" and features the performer wearing his signature snake print clothes and leopard print scarf — only this time he also has a halo and performs alongside four others in an EDM-influenced track.
Over its three minutes, Piko Taro stands in the middle of a dark space, surrounded by speakers (attached to his back) and a quartet of musicians (who are mini versions of himself).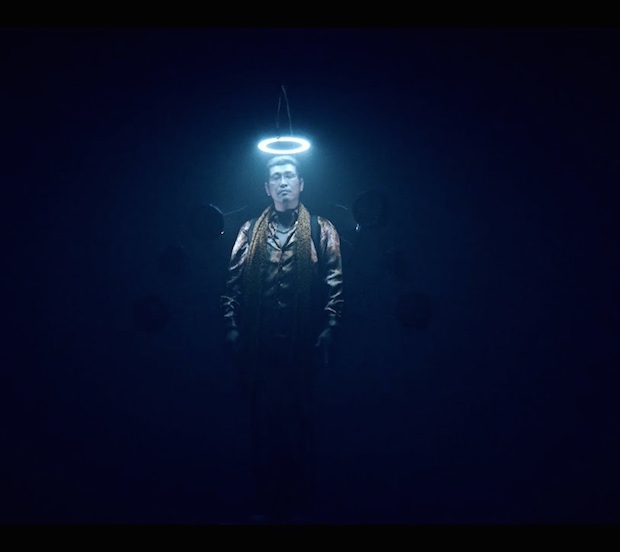 Rendered in typical Jinglish, the "concept" is announced as follows:
Humans are born, and soon…
Beginning with 'Perfect PAPA', and closing with this tune.
This is PIKO 10 PROJECT's last song.
And the "explanation" (if it qualifies for such an epithet) is:
This is my first time co-starring with the four Kosaka-sans PIKO!
It's my first experience ever to co-star with Kosaka-san, and wow, four of them!?
I got bit shy PIKO!
Whoopie!!
The Piko Taro's trademark style of banal yet addictive refrains, the lyrics include such zingers as "Birds fly in the sky," "I wish you happiness and health," and, of course, "Everyone must die." The central theme of the song is timed to coincide with Obon, the Buddhist festival of the dead that happens in Japan during August.
Here is the song in all its glory.
And in case you missed them (we did), Piko Taro also released various other new songs and videos earlier this year — two examples of which are below.