Does Piko Taro have another hit on his hands? Nearly a million views seems to suggest so.
The "Pen-Pineapple-Apple-Pen" creator has recently launched a new song on YouTube, this time significantly longer than his original viral smash — and he got some help from idol group Momoiro Clover Z.
After rubbing shoulders with Justin Bieber, hanging out with Donald Trump and Shinzo Abe, and marrying a top gravure model, we would have imagined there was nowhere else for Piko Taro (aka Daimaou Kosaka) to go — but we were wrong.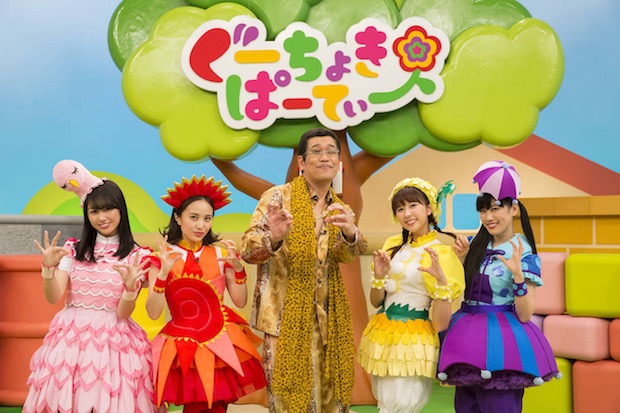 Apparently he wanted to get slapped on the butt by a female music idol. All in the name of good entertainment, natch.
Made with the four members of Momoiro Clover Z, the resulting song and music video is another masterpiece of simplicity and wackiness, serenading viewers through different vegetables (tomato, potato, pumpkin, parsley) — and then punctuated by one the young ladies hitting Piko Taro and the others on their rears for no conceivable reason except that they just needed some kind of twist to liven things up.
While it has yet to reach the lofty heights of "Pen-Pineapple-Apple-Pen," the aptly named "Vegetable" music video has already clocked up close to a million views on YouTube.
Perhaps more so than who, how, and why on earth they conceived this latest addition to the Wacky Japan pile, the question we want answered is: Will Piko Taro be invited to perform at the 2020 Olympics opening ceremony?