Just when you thought the Pen-Pineapple-Apple-Pen viral phenomenon was fading away, along came a widely reported press conference at the FCCJ in Tokyo to boost the ratings, and now news that Piko Taro's annoyingly catchy tune has inspired its own cafe.
Created on a modest budget by comedian Daimao Kosaka, it was clear to local audiences that the PPAP song is a parody of the inane way that English is taught to Japanese school kids.
But somehow the roughly 1-minute-long song took off globally, leading to multiple and inventive cover versions that have turned Daimaou into an online sensation.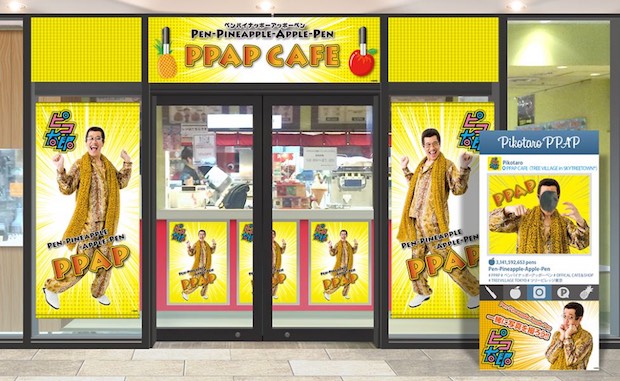 Two months on from its release on YouTube, the original video alone currently has over 70 million views and the song has even stormed into the US Billboard Hot 100 (picking up a Guinness World Record along the way for being the shortest song to do so).
In search of more PPAP than YouTube can offer? The Tree Village store at Tokyo Skytree will covert into a Pen-Pineapple-Apple-Pen pop-up from November 1st to November 20th.
No prizes for guessing that the menu at PPAP Cafe includes a lot of pineapple and apple dishes. There are five kinds of drinks plus pastries, parfait, and two pancakes.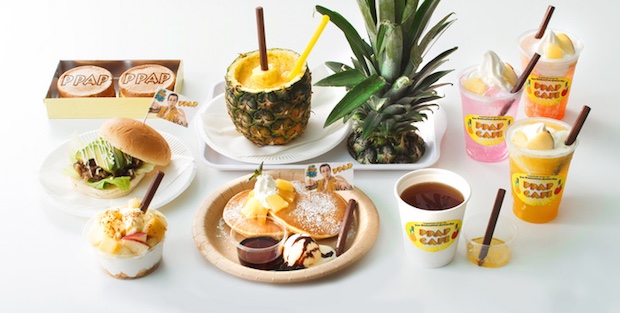 Customers also get a free Piko Taro coaster, available in five varieties.
We presume the Muzak will be PPAP all day, so a long visit might not be advisable.