After teasing us with the prototype back in the spring, Sharp has now made its moe version of the Cocorobo vacuum cleaner an actual product.
The Premium Cocorobo Imouto Version will only be available for online orders in November and December, with orders set to be delivered in mid-January. However, if it proves popular, we expect at the least the electronic stores in Akihabara will be carrying this "little sister" model of the cleaner.
Sharp's Cocorobo is a successful robotic vacuum cleaner series that can talk to you. Add a cute female anime character ("Cocorobo-chan") and a suitably moe "sister" voice and you have the concept for this Akiba-flavored version.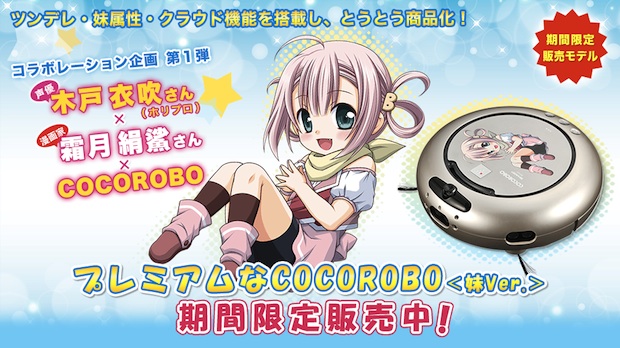 The Premium Cocorobo Imouto Version is voiced by the 16-year-old actress Ibuki Kido and with illustrations and character design by mangaka Kinusa Shimotsuki. It (she?) can tell you the weather and also greets you with a "Good morning, darling", and even talks to you about famous regional spots around Japan. Since the voice actress hails from Aomori, Cocorobo-chan even switches into local dialect sometimes.
Sharp debuted the female robot in March and wanted 11 people to test it at home. They got over 1,200 applicants for the trial in just a week, so we can assume they are confident that mass production is going to be worthwhile for their coffers.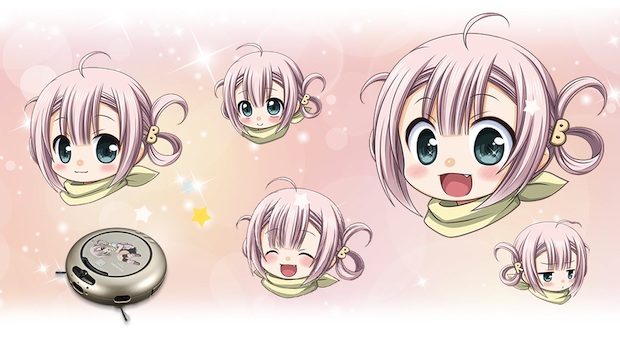 It draws on a cloud for the data to create the "conversations", meaning it can respond to the season and weather for that day.
Such cuteness comes at a price. It costs a whopping ¥148,000 ($1,200).
If your budget doesn't stretch that far or your tastes are rather different, we recommend you try out the regular Sharp Cocorobo vacuum cleaners instead.