The past is a foreign country: they do things differently there.
LP Hartley wrote those words as the opening of The Go-Between, a very English novel about very English themes.
But the message is universal and relevant to Japan today, where the gods and folk rituals are slowly re-emerging.
In mid-February, Charles Fréger opened "Yôkaïnoshima" at Le Forum, the gallery inside the Maison Hermes Ginza store. The French photographer, known for his work documenting rituals and festivals around the world, shot villagers in 60 locations across Japan dressed in costumes representing yokai, the supernatural beings that inhabit Japanese folklore (and now have a lucrative second life in anime, manga and video games). The free exhibition runs until May 15th.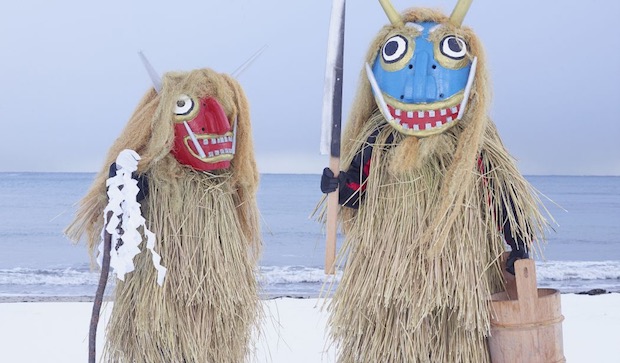 Charles Fréger, "Namahage", Ashizawa, Oga, Akita Prefecture, Yôkaïnoshima series, 2013-2015
Photographer Yusuke Nishimura has been training his lens on practitioners of rural folk performances and festival dances for the past three years. After successfully financing his project through a crowdfunding campaign, the results have become a remarkable 328-page photography book, The Folk, recently published by Little More Books.
Ironically, it was a folk performance in Meiji Shrine, the Shinto shrine linked to the imperial family and located in Harajuku in the heart of Tokyo, that transformed him and set him on his quest into the unknown.
The "audience" for these performances is the kami themselves. In ancient times, it was quite common for people to be killed by natural disasters — if a river overflowed or the area went too long without rain. For the people who had to live in that environment, it must have been easy to see kami lurking everywhere behind nature, and the experience of those disasters became deeply connected to people's spiritual faith. Their fear of nature nurtured a sense of beauty — but also a profound terror of what it could do.
Nishimura's series is also featured in a tie-in exhibition at the IMA Concept Store in Roppongi until April 2nd. Entry is free.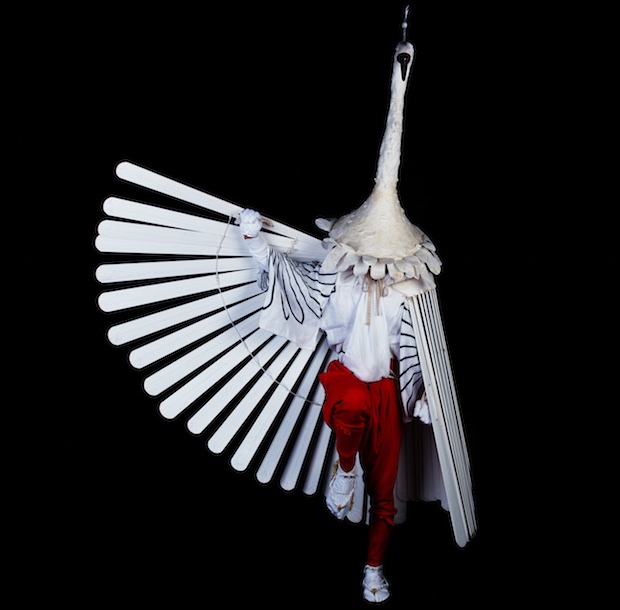 Yusuke Nishimura's portrait of a Heron Dance from Tsuwano Yasaka Shrine, Shimane Prefecture
These two events join a series of related developments that indicate renewed interest in Japanese folklore.
In 2013, the documentary film Ubusuna was released. Directed by Miles Nagaoka and made by an international team, the film explores Japan's forest, mountain and coastal communities, from Shikoku to Tohoku to Okinawa.
Ubusuna is a word with Shinto roots. It means the land where people were born and the kami (gods) that watch over them and their home. With Mt. Fuji's recent and much-trumpeted recognition as a UNESCO World Heritage Site, there is perhaps no better time for us to put aside tourist marketing slogans and nationalistic pride, and truly consider the future of Japan's mountains and the communities that still reside there.
In 2014, 21 21 Design Sight held a popular exhibition about rice culture in Japan.
Screened at the exhibition was Hakusho: The Story of Rice, a documentary by Yu Yamanaka that explored ways that rice continues to resonate with Japanese people today. It included a rice farmer in Chiba and a sake brewer, but most interesting in this context was the footage of rice deity (Tano Kami) dances in Kyushu, and also the remarkable ritual in Ishikawa's Noto Peninsula of Aenokoto, where the Tano Kami is welcomed into the home once a year and given a bath and a meal.
There has also been a rediscovery of the work of folklore researcher Tsuneichi Miyamoto in recent years, including a translation of his landmark The Forgotten Japanese into English.
More generally, some have noted (or at least, anticipated) an increase in pilgrimages and spirituality since the 2011 Tohoku disaster, alongside the unprecedented 14 million who visited the newly rebuilt Ise Shrine in 2014.