It has been one of the biggest trends of recent years and then just like that, it has faded away.
So-called "tattoo tights" exploded into the popular and digital consciousness in 2011, even garnering overseas attention. The streets of areas like Harajuku and Shibuya were filled with the pins of young girls wearing fake body art-style leggings. The sheer variety of the "tattoo" designs was impressive: from Hello Kitty aplenty to cats, rabbits, onions, and more.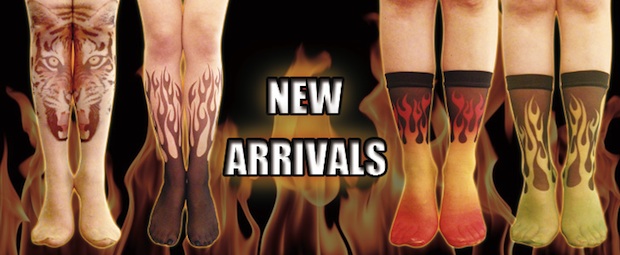 Avantgarde is the main brand behind the street fashion trend and as such opened a tattoo tights store in Harajuku in October 2011. It seems the legs of the fashionista have moved on, since Avantgarde will be closing the brand's basement-level boutique on November 24th in the face of declining demand for their stockings.
Tattoo tights were a victim of their own success, with numerous replica and cheap imitations flooding the market. Yes, fake-fake tattoo tights!
Launched in 2009 by Kazuhiro Watanabe, MAM Avantgarde was constantly thinking up new bold designs as well as wide-ranging collaborations, including Hello Kitty and Disney. In 2012 Tokyo Fashion.com called Avantgarde Harajuku "the most influential legwear boutique in the Tokyo street fashion scene today". Sadly, it was not enough to ride the notoriously capricious waves of street fashion for long.
Avantgarde has not announced any new plans for other stores but will continue to sell online. There are still lots of tattoo tights around so perhaps we shouldn't write off the trend quite yet.