Since Japan is apparently a nation of workaholics and no one really seems to think this is a problem, railway operator JR East is attempting to meet the demand for spaces for professionals on the go. Forget the ubiquitous coffee shop as your in-transit workstation. Opt for the, well, train station.
While other cities around the world are introducing free high-speed public WiFi, that still remains a pipe dream in Japan, not withstanding a few initiatives aimed at visiting overseas tourists. Instead, locals get "solutions" like this: mini "Station Work" booths that will be available at Tokyo Station and three other major JR stations in the capital from August 1st.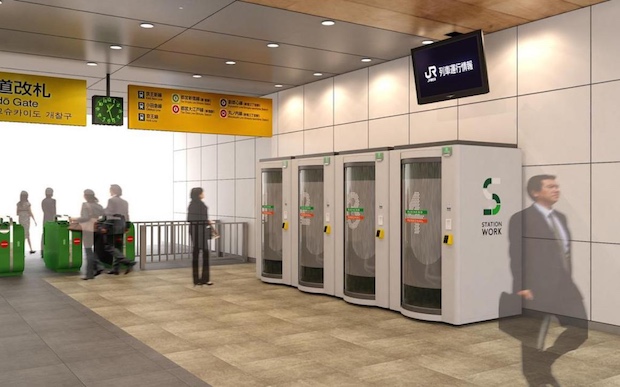 There will be a total of Station Work cubicles installed near the ticket gates of the stations, with plans by JR to roll out more in the city and surrounding region from the autumn.
First announced last year, look out for the coworking office booths at Tokyo, Shinjuku, Ikebuku, and Tachikawa stations. They are designed to fit one person, except for some two-person-capacity units at Tachikawa. They also have a semi-transparent door, so are presumably not 100% private. While you might not want to work on any confidential corporate documents, then, you can take advantage of the power outlets (including USB) and "public LAN WiFi" service.
They are not intended for the casual user. Instead, you need to be a registered member. An initial campaign means the rental rate is ¥162 per person for 15 minutes, or ¥216 for the two-person cubicle. Unsurprisingly, payment can be made using JR East's Suica prepaid IC card (or similar card), which can already be used to pay for basically anything in the transport system as well as widely at many retail and commercial locations in general.
The details are not quite clear, but apparently even non-members can use a booth if one is available.
In some ways, JR is late to the game here. Bibi Lab already gave us this fun Nomad Suitcase (now sadly sold out) to cater to the needs of busy professionals desperate for a workstation on the go.