Contrary to what many people outside believe, Japan isn't a science-fiction utopia where everything is done by robots and artificial intelligence. Especially when it comes to internet penetration, non-Japanese living in Japan are constantly surprised at how little it extends to everyday life events. Sure, everything has a web page and there's QR codes everywhere and Japanese cellphones had email long before smartphones, but that's about the extent of it. As is often remarked by awestruck visitors, in Japan the fax is as much important as the tablet – perhaps more so!
All this seems to be changing rapidly in the last year because of the Covid-19 pandemic. More and more office workers are encouraged to "terewaku" (telework, or telecommute), dealings with local or national bureaucracy are being transferred online, and people are finding ways to keep their everyday life from being derailed by the coronavirus. Being particularly hard hit by the pandemic, since going out for drinks violates all preventive measures for dealing with Covid-19, the sake industry is among those trying to find alternative solutions to keep interest alive for Japan's national alcoholic drink. Here's some of the things it has come up with.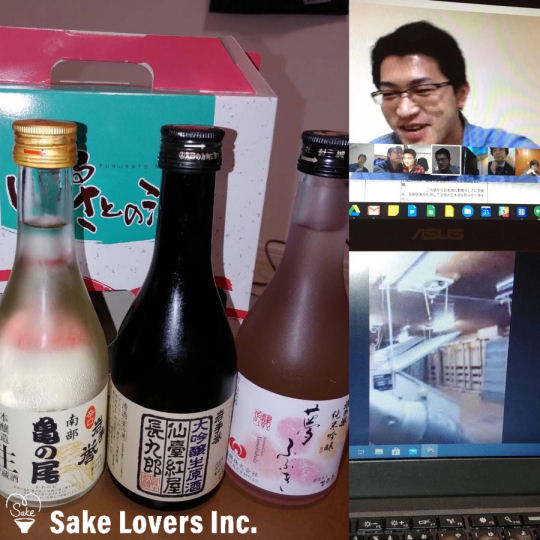 The brainchild of sake sommelier Yuki Imanishi and entrepreneur Kyoko Nagano, Sake Lovers is supporting small craft sake breweries by helping them create relationships with the world outside Japan. Since such an enterprise presupposes mastery of social media, online activity has been part of Sake Lovers' repertoire since its beginning — Covid-19 just made it more intense — featuring virtual sake tastings from specific breweries. For a reasonable fee (around ¥5,000/$48), you get a four-bottle set of different labels from a single brewery and then you go online to get a video tour of the brewery and enjoy the drinks with other buyers while listening to someone from the brewery explaining how each sake was made and what are its characteristics.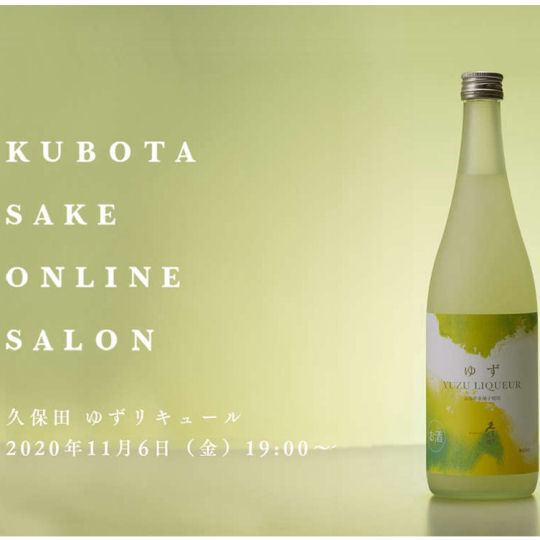 Produced by Niigata's Asahi Shuzo, Kubota is one of Japan's most famous sake brands and starting on May 2020, when the brewery's 100th and the brand's 35th anniversary coincided with the peak of Covid-19's first wave, Asahi Shuzo decided to go online and host its first "Kubota Sake Online Salon." Using YouTube's live streaming, the brewery conducts free seminars where its team each time present a different product from the Kubota brand and answer questions from viewers. There's also a lottery where five lucky viewers get gifts from the brewery. The initial planning was for 10 seminars but since the Covid-19 situation continues, there's probably going to be more.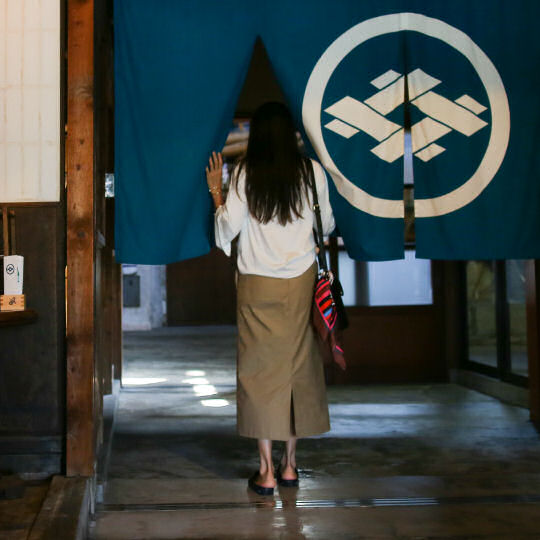 3. Instagram Live online Imayo Tsukasa Brewery tour
Again from Niigata (which, if you like sake, you probably know is one of the most famous sake-producing areas in Japan) but this time using Instagram Live, 250-year-old Imayo Tsukasa offers the chance to walk through its facilities accompanied by employees, who tell the story of the brewery intertwined with their own. Sake being a craft as much as an industry, brewery staff start young and grow with the company, so production becomes personal. Tours are free and open to everyone and are usually joined by between 50 and 100 Instagram users.
4. Kampai with Sake Week (September 26–October 4, 2020)
This was a one-off event that lasted one week before and after October 1, which has been designated "World Sake Day" because traditionally this is the starting date of sake production. Although the Japan Sake and Shochu Makers Association (JSS), the main organization of the industry, has been celebrating this day since 1978, this year the online part has been enhanced with the JSS encouraging people to post pictures where they do "kanpai" (toast) with sake to social media, a YouTube Live stream that lasted four hours (and is still online) and more. And yes, this was more for morale-boosting than anything else, but apparently it worked — with over 30,000 posts on the event's website and Twitter and Instagram accounts.
What's more, and because most things in Japan are done at the grassroots level, every day more and more nomikai (get-together for drinks) are being organized individually through Zoom or Skype. Social drinking is important for the Japanese more for the "social" than the "drinking" part, so small and not-so-small groups all over the country bring a tokkuri bottle with their favorite sake, an o-choko cup, and some of their favorite tsumami drinking snacks next to their laptops and tablets, open a group chat, crank up the volume, and spend a few happy hours with their friends and colleagues without worrying about having to catch the last train home!