This article by Yulia Mizushima first appeared on Tokyo Cheapo.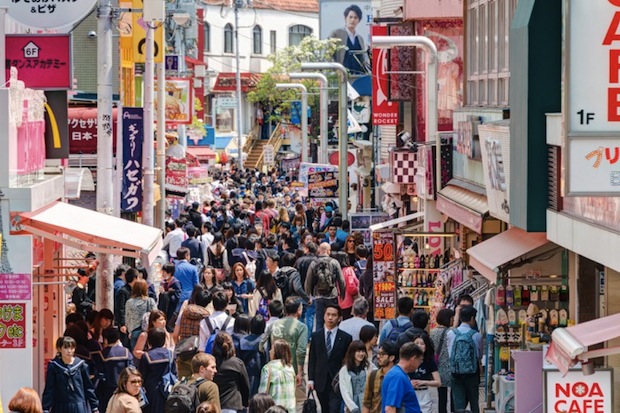 Takeshita-dori pic by beibaoke / Shutterstock.com
When I first moved to Tokyo, I was living on ¥1,000 a day while renting half a room in the cheapest of cheap share houses. I didn't care though — this is one of those special few cosmopolitan cities where you can experience the best of it for free, if you know where to look. With that in mind, I've compiled a list of ten top free things to do in Harajuku, pop culture hub and stomping ground of Tokyo's most fashionable trendsetters.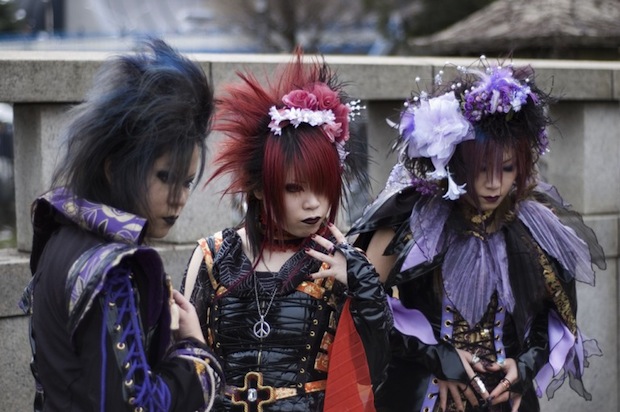 Pic by Jacob Ehnmark, used under a Creative Commons licence.
1. Release your Inner Street-Style Photographer
Harajuku is known for being home to Japan's most wildly fashionable brands, so much so that people dedicate their wardrobes to its unique and peculiar style. Roam through Yoyogi Park or wander across Harajuku Bridge and bring your best camera, because this is one of the few places in the world where your photo subjects will gladly pose (and even dance for you!) without demanding spare change. Girls in French maid outfits, boys in "visual kei" punk rock glam, girls and boys cosplaying their favourite anime characters or dancing to 1950s American rock music and paying homage to the iconic rockabilly lifestyle. Sundays are when Harajuku's magic really happens. Bring a full battery and an empty SD card.

Pic by Mikael Leppa, used under a Creative Commons licence.
2. Get Lost on Takeshita-dori
If you find yourself stuck in a sensory-overload daze, surrounded by toys, clothes and a lot of unidentifiable knick-knacks that make you want to gag from their sheer cuteness, it's a safe bet that you are on Takeshita-dori ("dori" meaning street in Japanese). This famous pedestrian-only street is known for its trendy boutiques, game centers and a super Daiso store, where you can buy anything you can dream of (as long as it's worth ¥100).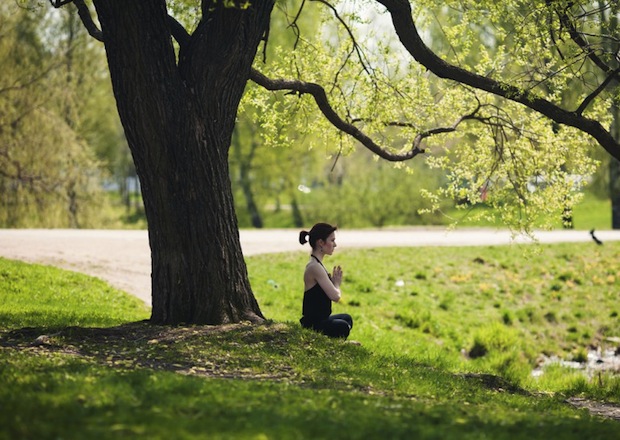 Yoga pic via Shutterstock.
3. Yoga at Yoyogi Park
If there's one thing in Tokyo that's really expensive, it's space. Luckily for those interested in or committed to yoga, over 100 acres of Tokyo's Yoyogi Park is free to use as you wish. It's perfect if you can't afford an expensive gym membership. You can go solo, or you can go with English Morning Yoga, one of Meetup.com's most popular events in Tokyo. After a cheap, hour-long class in simple English you'll receive a muesli yogurt breakfast snack. It's a fun way to meet new people and kickstart your day. Yoga enthusiasts of all levels are welcome, you just need to bring your own yoga mat and towel. Every Wednesday at 8am.
4. Escape to a Spiritual Oasis
Being in a dense and overly-stimulating city like Tokyo can wear you down, but you can rejuvenate by making a visit to Meiji Shrine (Meiji Jingu). Enter Yoyogi Park through Aoyama 1-chome and stroll through the Avenue of Ginko Trees. This nature-lover's walk is lovely anytime of the year, but especially so in the autumn, when the leaves change color and park visitors are surrounded by 360° of unbelievably vivid shades of red and gold. From there, you can drift northwards through the park until you've reached the shrine's landmark entrance, the 40-foot tall Meiji Jingu Torii (gate).
Once you're inside, you can cleanse your hands and mouth at the purifying water fountain as a mark of respect to the shrine's Shinto customs. Then, if you like, you can throw a coin into the offerings box — the amount is totally up to you – deeply bow twice, make a wish, clap your hands twice, and bow once more. Remember to take your hat off first if you're wearing one. Take your time at the shrine, but bear in mind that it's a place of great respect for Japanese people.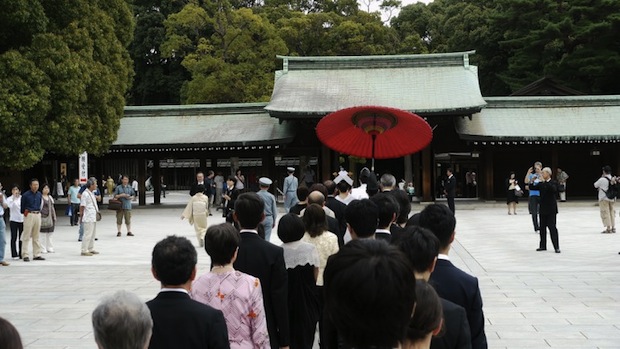 Pic by Hikosaemon, used under a Creative Commons licence.
5. Crash a Wedding
Just kidding. Please do not actually crash a traditional Shinto wedding ceremony if you are lucky enough to witness one while visiting Yoyogi Park's Meiji Jingu Shrine. The procession is quite a sight to see: a parade of two priests, two shrine maidens, the couple, and a long trail of friends and family. Tourist or local, you'll be blown away by the colour and beauty of it. Just make sure to stay out of the way and thank your lucky stars you brought that long-range zoom lens.
6. Play Inside a Manga Book
You know that shopping mall with the kaleidoscope of mirrors as an entrance? Tokyu Plaza Omotesando, that's the one. It's a short walk down Meiji-dori from Yoyogi Park or Harajuku Station. When you get there, go up to the fifth floor and you'll find yourself in a quirky indie gift shop designed like a giant manga book. While Tokyo's Tokyo (that's the name of the store) is famous for its collection of "sofubi" vinyl art toys, the store has a wonderful collection of books, toys, clothes, and other sought-after collectables. It's a decently large space, perfect for anyone looking for some art-porn.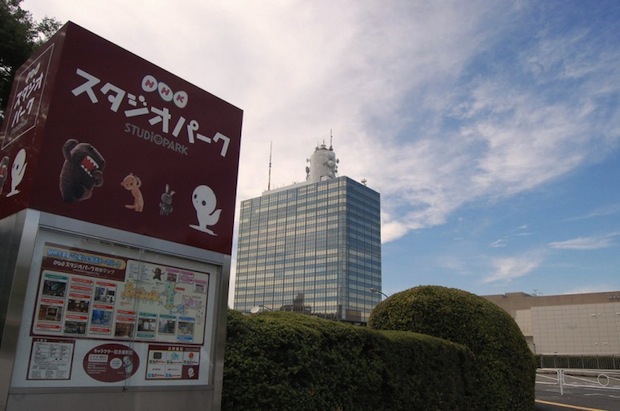 Pic by Yusuke Kawasaki, used under a Creative Commons licence.
7. Pop by NHK Studio Park
Only a 10-minute walk from Harajuku Station, NHK Studio Park is part of the headquarters of NHK – the public broadcaster. While it's not the most thrilling of attractions, it is an interesting place to visit for an overview of Japan's national broadcasting history, as well as a behind-the-scenes look at some of Japan's most famous dramas, sports, entertainment, news, and anime shows. You can also try your hand at voice dubbing activities and, if you're there at the right time, watch live tapings in the studio. There are hour-long tours conducted in Japanese and English – these are free for children, ¥150 for high school students and ¥200 for adults.
8. Dress like a Harajuku Girl (or Boy)
There is no "one way" to dress in Harajuku style, because its constantly changing. But what better way to immerse yourself in Japan's subculture than by joining in the fun? There's only one rule when dressing for Harajuku: be creative and open-minded! Mix and match your favourite styles, go bold, and don't hold back. Harajuku girls and boys have well-known styles like gothic Lolita, cute Lolita, punk rock glam, French maid, schoolgirl, and cosplay, but that doesn't mean you have to pick just one. Feel free to mix different styles and even cross cultures if you're daring. Go all out, there's so much you can do in terms of accessories, make-up, colors, layers, DIY customization, etc. As a tourist, you might have the urge to go crazy with your camera, but try to repress your inner photographer, because you're going to be the subject of many photographers once you're there. Be ready to say "cheezu!"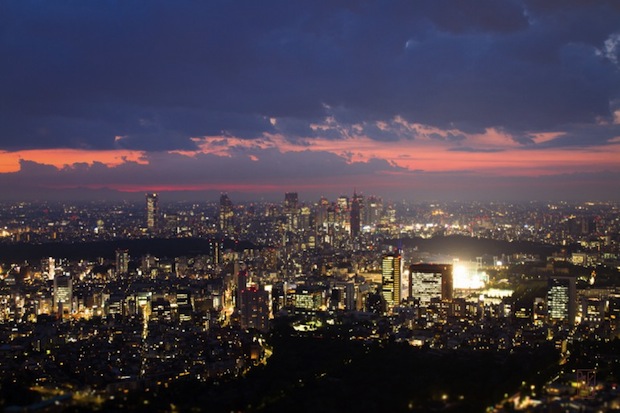 Tokyo Skyline pic by marc ember, used under a Creative Commons licence.
9. Enjoy the Tokyo Skyline View
Night is when Tokyo really shines, but what kind of cheapo pays ¥1,000-2,000 to get into the typical tourist sightseeing platforms like Tokyo Skytree and Tokyo Tower? Omotesando's Two Rooms Bar and Grill lets their customers take in the gorgeous northern Tokyo skyline free of cover charge. Instead of that entrance fee, treat yourself to a martini on their fifth floor outdoor terrace.
If you're more of a sunshine person, head over to Wired Café 360 after a long day of shopping (or just window shopping) in Harajuku. This circular café mostly consists of ceiling-high windows that provide a serene backdrop of the foliage on the terrace. Oh, and there's free Wi-Fi!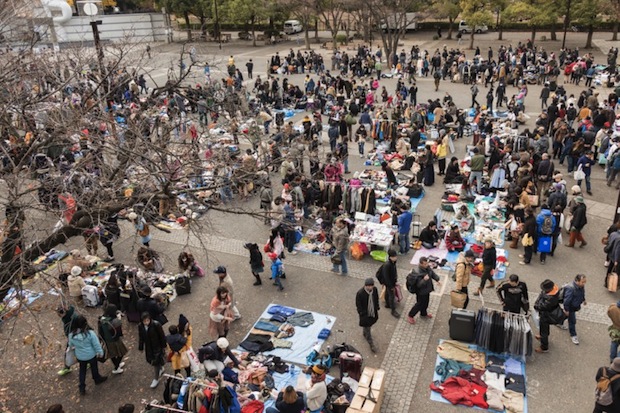 Pic by Aduldej / Shutterstock.com
10. Recycle Your Clothes
It's not just free, it might even add a few extra yen to your wallet. Tokyo has a unique second-hand store setup that outshines Macklemore's "Thrift Shop" any day. The thrift shops that will buy your clothes are very picky though; you can't just throw them your old gym sweater and expect some cash. Some not-so-cheapo-friendly Harajuku stores, like Komehyo and RagTag (both of which also have other branches throughout Tokyo) will only take designer brand apparel! Parting with your once-treasured clothes and accessories can be a bit emotional, which is why Pass the Baton (Omotesando, walking distance from Harajuku) honors that relationship by carefully interviewing each seller and adding a story and biography to each item. They even let the seller decide the price!
If you are more serious about getting hard cash for your clothes, think about applying to be a vendor at the Yoyogi Flea Market. Vendor applications cost $40, and although schedules tend to be irregular, during peak seasons, the "Free Market" can provide space for up to 800 vendors. Read more about Tokyo's flea markets.
Extra Summertime Activities:
Jingu Gaien Fireworks Festival (Aug 16)
Summertime is yukata time in Japan, and what better place to show off your threads than the streets of Harajuku? A trip to Japan is not complete without the traditional Japanese experience of relaxing in a yukata with friends and enjoying copious amounts of beer and street food while watching an amazing fireworks show. You can expect typical Tokyo crowds, so get there early.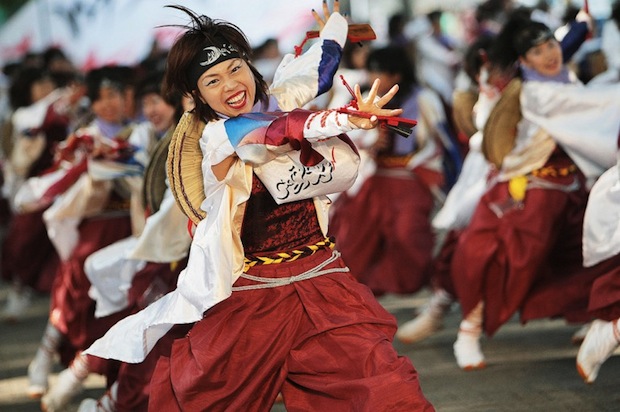 Pic by Yamamomo Koubou, used under a Creative Commons licence.
Harajuku Omotesando Genki Matsuri Super Yosakoi (Aug 23, 24)
Dancers from all over Japan (and even other countries) show off their best moves in the "Harajuku Omotesando Genki Matsuri Super Yosakoi" parade. This colourful and energetic mixture of traditional and modern Japanese artistic culture attracts over 800,000 locals and tourists every year. Originally from Koichi city, the Yosokai festival was created in 1954 by their local Chamber of Commerce, apparently to combat the psychologically negative effects of the economic recession. With over 90 teams and a total of around 5 000 dancers seemingly competing against each other to be the loudest and most spirited, you'll definitely be shouting and clapping along with them.
Looking to explore Shinjuku too? Here are ten free things to do there.