Last year's fatal summer raised serious concerns about the safety of holding the 2020 Olympics in Tokyo during July and August. With temperatures this month already breaking records, all eyes are on the organizers to come up with solutions.
Unfortunately, one proposal has met mostly ridicule — and it's not hard to see why.
Governor Yuriko Koike recently unveiled a hat-parsol contraption that is designed to help protect people in the city from the dangers of heat stroke.
When images from the press conference on May 24th first appeared online, many thought it was an elaborate stunt or even an amusing piece of parody from the Rising Wasabi or Kyoko Shimbun (the Japanese equivalent to the Onion).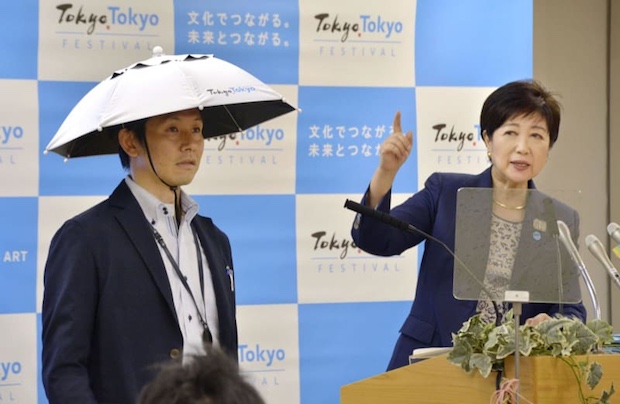 But no, the images are real. The much-mocked "hat-brella" might look like a chindogu semi-useless gadget of the kind that Thanko famously (and quite expertly) produces, but this is a prototype genuinely endorsed by the Tokyo Metropolitan Government. (Though, we note, the governor herself did not demonstrate one for the cameras.)
Measuring 60 cm (24 inches) across and fitted with thermal reflectivity lining, the hat-parasol will apparently offer the wearer some protection from the high temperatures of the Tokyo summer, though we cannot vouch for the impact on their fashion credibility. Many were quick to point out the resemblance to traditional sandogasa that samurai wore on their heats when traveling.
Presumably if tests prove successful, the hats will be available for spectators or the Olympic Games volunteers, the young people working for free during the Summer Games under the blazing sun (and whose uniforms have already come in for much criticism).
Image via Kyodo News