What next after PPAP (Pen-Pineapple-Apple-Pen)? In the wake of the success of the viral hit of 2016, the comedian Piko Taro has tried to extend his popularity with a guest appearance in a K-Pop hit as well as holding concerts, in addition to fronting various marketing campaigns. There is even a PPAP cafe as well as his own follow-up songs.
Now PPAP has received the somewhat surprising stamp of government approval, thanks to a video where Piko Taro performs a variation on his routine with none other than Tokyo governor Yuriko Koike.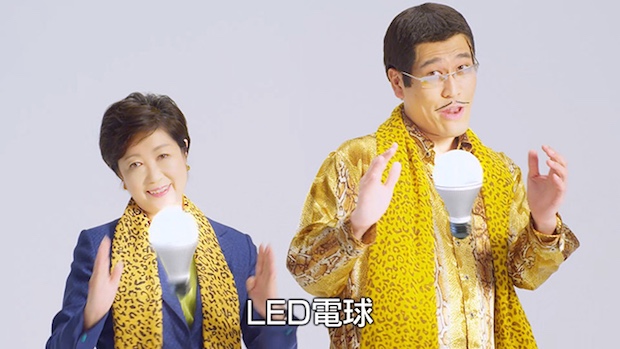 The unlikely partnership between 2016's one-hit wonder and Japan's most powerful directly elected politician is meant to be promoting LED light bulbs and energy conservation. Governor Koike with a leopard-skin scarf, semi-singing along to a version of the minimal PPAP lyrics, is not an image you can un-see quickly.
If Tokyoites ever wondered where their taxes were going, it is on preparations for the Olympics and on videos like this — which is even available in English.
The video exists because Tokyo Metropolitan Government is promoting a scheme to exchange light bulbs for energy-saving LED ones from July 10th.
Yuriko Koike has established herself as something of a populist politician and is happy to mingle with celebrities. She recently met with Takeshi Kitano dressed up as Donald Trump for a TV show.
So does this mean that PPAP might make an appearance at the opening ceremony for the Tokyo Summer Olympics in 2020? We can hope.