No other country in the world has as many Kit Kat flavors as Japan does, having released over 200 flavors since 2000. One reason for the immense popularity of Kit Kats in Japan is that its Japanese pronunciation, kitto katto, sounds like kitto katsu, which means "to surely win", thus making it a good-luck charm of sorts for exam takers. That aside, Nestle was clever enough to tap into the Japanese fondness for seasonal flavors and regional specialties, leading to a proliferation of Kit Kats in different flavors.
So you want to buy some Japanese Kit Kats, huh? Great, because they make for some pretty unique souvenirs! The good news? Matcha (green tea) Kit Kats are not that uncommon or hard to find in Japan; in fact, they may be unique or unusual for foreign tourists, but Japan's got stranger flavors that make matcha Kit Kats look like plain ol' milk chocolate. The bad news? If you're looking for unusual, limited-edition, or regional flavors, you'll need to know where to look. Here are some establishments where Kit Kats are sold and what kind you can expect at those places.
1. Pharmacies and Discount Candy Shops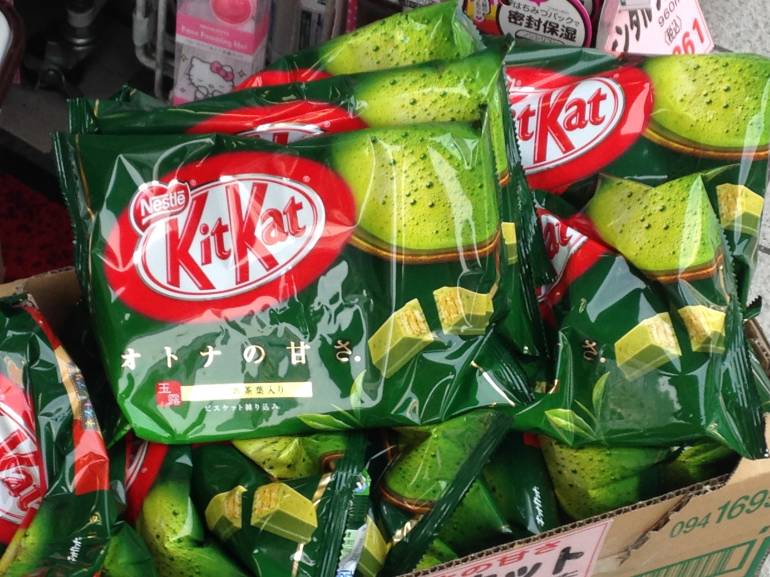 Many Japanese drug stores tend to be indistinguishable from general-purpose shops, what with cosmetics, shampoos, other beauty products, and sweets usually being on display outside and/or on the first floor. At these drug stores (Matsumoto Kiyoshi being one famous example), you can find Kit Kats sold in packs of 9-12 pieces, usually for ¥198-400 a pack. Don't expect a wide array of flavors at drug stores, though: they usually only sell regular Kit Kats, dark chocolate ones, strawberry, and matcha (green tea). These are part of the otona no amasa (adult flavor) line, which means subtler, less sweet tastes. Matcha and strawberry are seasonal, with the former being off the shelves in summer. It's also uncommon for these packs to come in unusual flavors or variants, although they came out with Kit Kats that you could bake with an oven toaster in 2014.
You may be wondering what pharmacies and discount candy shops, known as dagashiya, have to do with each other: the latter also sells the same Kit Kat packs. One prominent chain is called Okashi no Machioka, which we've written about before. They have a branch on Ikebukuro's Sunshine Street, for one.
2. Convenience Stores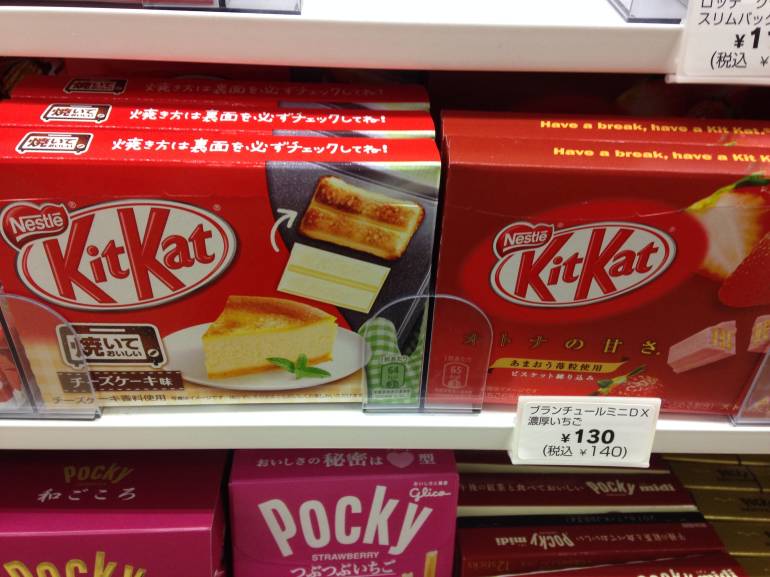 Photo by Tiffany Lim used under CC
Although this is not really the place to look for unique flavors like sakura or wasabi, here you can find cheapo deals on Kit Kats sold in thin boxes, usually for no more than ¥200. Most of the time, all they have are regular flavors and variations on chocolate (e.g. white or dark). They also have some seasonal variants, matcha being one of them (and they also had rum raisin Kit Kats last year), but it's uncommon for them to have wacky flavors. As of February 2015, though, oven-toaster Kit Kats are being sold in 7-11s.
3. Souvenir (Sweet) Shops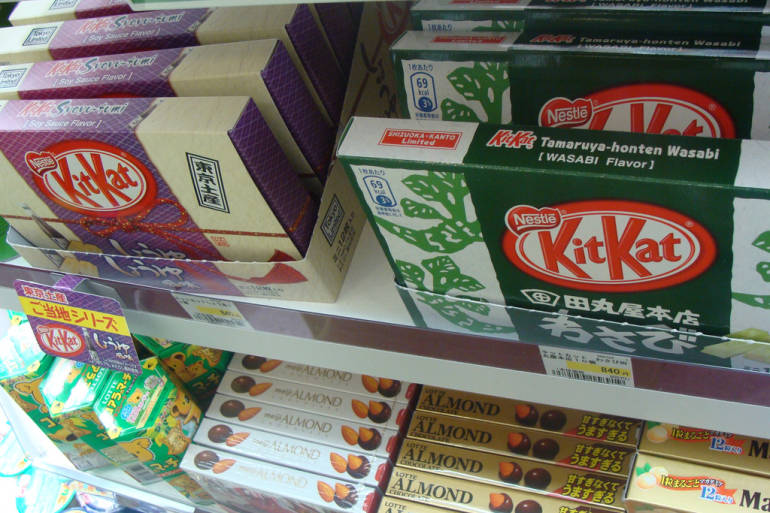 Photo by Graham Stanley used under CC
Some of Akihabara's duty-free shops like Laox sell Kit Kats in different flavors. Also, head to Odaiba, where there are 2 souvenir shops that sell wacky Kit Kat flavors: Le Edo on the first floor of Aqua City, and Kyoro-chan no Okashi na Okashiyasan on the second floor of Diver City (actually more of a sweets shop than a souvenir shop, but most people buy the sweets as souvenirs anyway). Both are a short walk from Tokyo Teleport Station. Let me give you an idea of the flavors I saw in Odaiba last time: soy sauce, wasabi, rum raisin, strawberry cheesecake, Kobe pudding, and chili. But if you think that's already a lot, wait till you check out First Avenue Tokyo Station, which has an entire zone devoted to sweets, and probably the most diverse selection of Kit Kat flavors in Tokyo. Since the sweets in these shops are primarily sold as souvenirs, the Kit Kats come in boxes that usually cost 800 yen onwards.
Le Edo: 1/F Aqua City, 1-7-1 Daiba, Minato-ku, Tokyo | Business Hours: 11:00 am-9:00 pm | Access: Tokyo Teleport Station/Daiba Station
Kyoro-chan no Okashi no Okashiyasan: 2/F Aomi 1-1-10, Koto-ku, Tokyo | Business Hours: 10:00 am-9:00 pm | Access: Tokyo Teleport Station/Daiba Station
First Avenue Tokyo Station Business Hours: 9:00 am-9:00 pm | Access: Tokyo Station (connected to the Yaesu Exits)
4. Kit Kat Chocolatory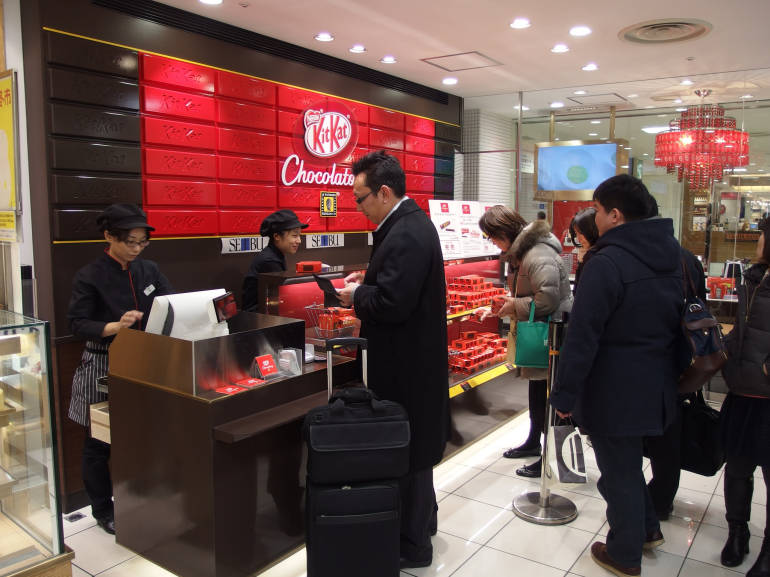 Photo by Guilhem Vellut used under CC
This Kit Kat boutique made the headlines even before it opened, but be warned: if you're expecting something like a shop with Kit Kat flavors from Hokkaido all the way to Okinawa (as some news reports misleadingly made it sound), you're in for some major disappointment. Sure, you can find matcha, sakura, chili, cream cheese, and seasonal Kit Kats here, but this is more of a luxury Kit Kat store than a collection of Kit Kats from all over Japan. The packaging is classier, and the ingredients are said to be of higher quality. The prices are indicative of this: a single, regular-sized Kit Kat bar costs ¥324, while a box of 4 mini Kit Kats costs ¥432. The Chocolatory has branches in Seibu department store in Ikebukuro, and in Tokyo Station's Daimaru.
Ikebukuro Branch: B1F, Seibu Ikebukuro Honten, Minami-Ikebukuro 1-28-1, Toshima-ku, Tokyo | Business Hours: 10:00 am-9:00 pm (Mondays-Saturdays), 10:00 am-8:00 pm (Sundays and holidays) | Access: Ikebukuro Station
Daimaru Tokyo Branch: B1F Hoppe Town, Daimaru Tokyo, Marunouchi 1-9-1, Chiyoda-ku, Tokyo | Business Hours: 10:00 am-9:00 pm (Mondays-Saturdays), 10:00 am-8:00 pm (Sundays and holidays) | Access: Tokyo Station
5. Airports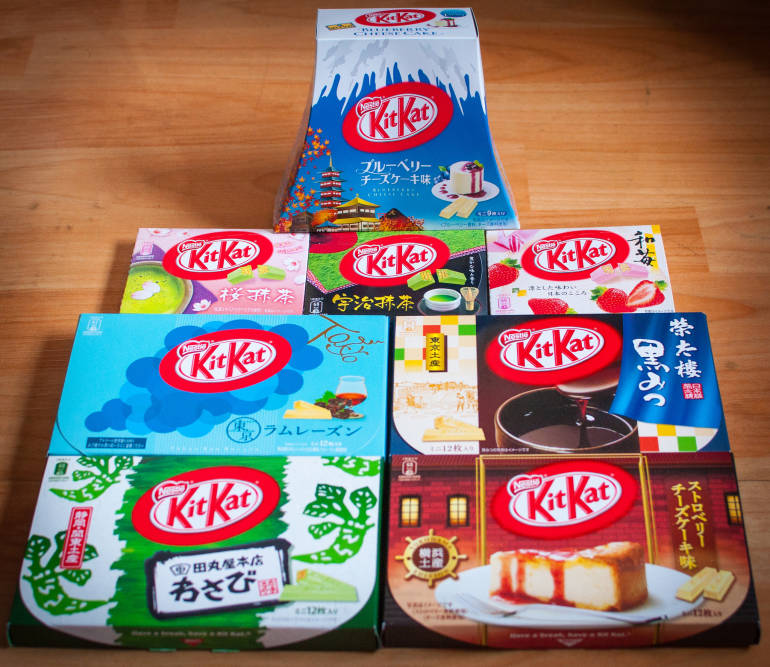 Photo by Jordi Sanchez Teruel used under CC
If you weren't able to shop for Kit Kats while touring Japan, you can always do some last-minute shopping at Narita and Haneda, where the souvenir shops sell matcha, sakura-matcha, and strawberry cheesecake Kit Kats, among others. These are sold in thin boxes like the ones you can get at convenience stores, and usually cost ¥160 a box, but you can get a large box for about ¥1,600.
6. Online
Like Pokemon, Kit Kats can be addictive—you just gotta catch 'em all. Sadly, Tokyo's souvenir candy shops are never quite complete. When all else fails, you can order online from Japan Trend Shop. Without having to travel to every region of Japan, you can try some yubari melon Kit Kats from Hokkaido, hojicha (roasted tea)-flavored ones from Kyoto, Amaou strawberry Kit Kats from Kyushu (Amaou being a kind of strawberry unique to the region), and purple yam-flavored ones from Okinawa, among others.
Read more and see location map at Tokyo Cheapo