It was touted as a "Japanese virtue" during the final speeches for Tokyo's 2020 Olympic Games bid and has become a ubiquitous buzzword ever since, but it seems that reality has some way to go before omotenashi (hospitality) can truly be called a success story.
An Osaka sushi chain has found itself in hot water after serving sushi to non-Japanese customers with excessive amounts of wasabi.
Notwithstanding the clamour of some netizens, this does not seem to have been a case of outright discrimination, but rather a naivety based on a misconception of omotenashi. The sushi chain did what it believed was right for "foreign tastes" without actually understanding them, or being aware that preferences vary per individual.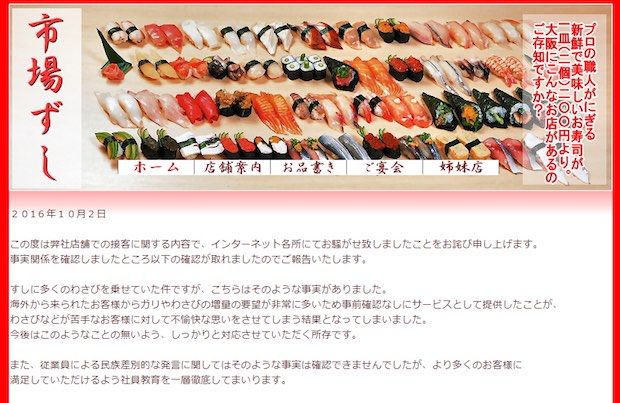 Osaka-based Ichibazushi, which is operated by Fujii Shokuhin Co., has issued an apology on its website after photos of the wasabi overdose went viral on social media, leading to dozens of telephone complaints to its Nanba restaurant and international press coverage.
The restaurant chain has claimed that its serving of wasabi inside the sushi was based on past non-Japanese customers who ordered extra servings of the condiment.
Ichibazushi responded with a policy of serving foreign diners with copious amounts of wasabi already included in the sushi. This "washi terrorism", as some commentators online memorably called it, comprised sometimes twice the usual volume of wasabi.
The company denied intentional discrimination against foreigners and apologized for "causing distress among customers who do not like wasabi".
Japan's supposed culture of hospitality has long been a matter of dispute, as foreigners trying to rent apartments or people with tattoos have discovered.
Lesson of the day: True omotenashi means adapting how you welcome guests depending on their needs. If they have a tattoo, of course they can still use the pool. If they are a vegan, of course we will change the meal for you. If they like wasabi, of course they can have extra. But don't assume anything just because they are not Japanese. Otherwise, things are going to get very interesting in 2020.