AKB at the ASEAN summit… Did we think we'd see the day? It's come, also confirming that they (or their successors) will almost certainly be main stage at the 2020 Tokyo Olympic Games opening ceremony.
As the leaders of Asia gather in Tokyo to discuss trade, borders and all that jazz, PM Shinzo Abe kicked off the bonanza by showing off Japanese culture at a special gala dinner he hosted.
Well, otaku idol mega-group AKB48 was chosen as the ambassadors of wa for reasons we can't personally fathom other than it might match up to the government's odd manufactured image of "cool Japan".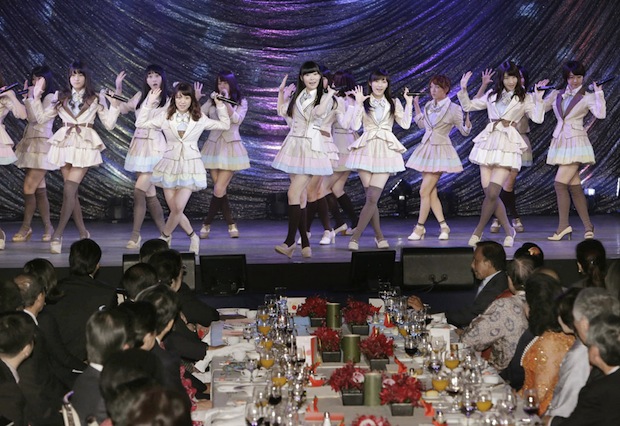 We are very curious to hear what the heads of China and Korea muttered to their lackeys as they watched the "virgins" of AKB strutting their stuff. In attendance were the leaders of Vietnam, the Philippines, China, Korea, Thailand, Brunei, Indonesia and more.
For the girls (i.e. the spouses of the premiers), male band Exile also performed.
The ASEAN summit marks 40 years of relations between Japan and the Association of Southeast Asian Nations.