Remember the mayor of Beppu, who promised to build an actual hot spring amusement park with water rides if a promotional video went viral?
The video hit the necessary one million viewers mark very quickly and delighted large sections of the Internet with its possibilities for combining amusement park attractions with public bathing.
While many initially presumed the video was an elaborate joke performed as a promo stunt for the Kyushu city, the "spamusement park" has now become a reality, though some may be disappointed by the relatively small scale of the result. Moreover, it's just temporary, as might be expected when considering the mere six months or so it has taken to realise the park.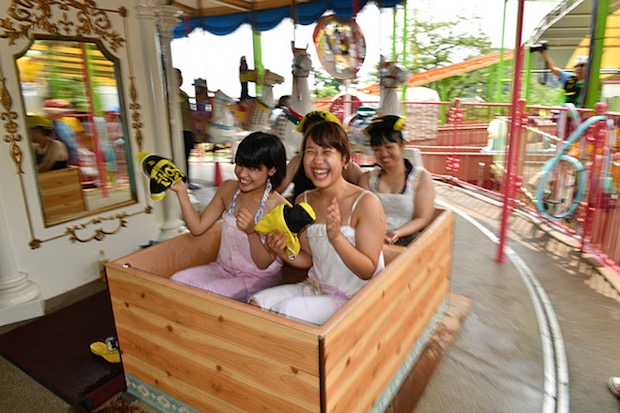 The conventional amusement park Beppu Rakutenchi was converted into a bathing-themed park for three days, starting July 29th.
Spamusement Park, or Yu-enchi (a play on the words for bath, "yu," and amusement park, "yuenchi"), was built with a crowdfunding campaign that collected ¥82 million ($740,800).
You could only visit Yu-enchi if you had pledged ¥8,000 or more to the project, meaning the event was effectively restricted to supporters rather than the general public. The Beppu government was expecting 12,000 or more people to visit the park over the three days, reported the Asahi Shimbun. If it's a massive success, we presume they may make it permanent.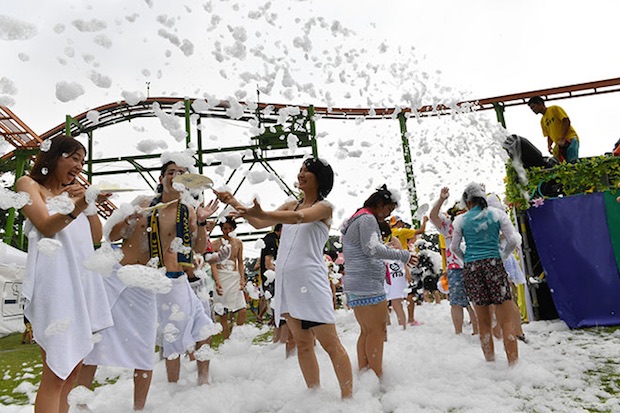 Here you can compare the concept with the actual product.
From the look of some visitor pictures, people largely opted to keep their regular clothes on rather than wearing bathing towels as suggested by the original video. At least one of the rides was also simply filled up with suds instead of letting you sit in a tub of swishing water as the viral video had shown. Disappointments aside, it's still a great idea.