We have noted before the trend for regional cities in Japan to produce promotional videos in the hope that they will go viral and ultimately rake in tourist yen.
Some are successful, such as the Oita Prefecture synchronized hot spring dance. Others attract unexpected controversy, such as Shibushi's "eel girl" video. And some are just plain weird, like the Akita dog-human hybrid music video.
Now Beppu City, which boasts the world's high yield of hot-spring water in the world, has made a clickbait-friendly, wacky video in the hopes of attracting enough attention to create an entire theme park.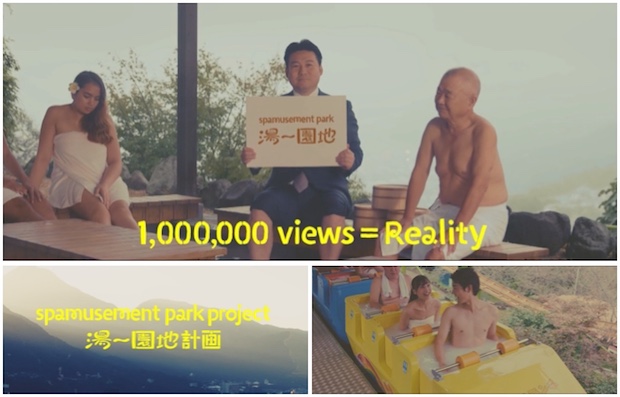 "1 Million Views Make it a Reality!" Beppu City Spamusement Park Project!, as the video is snappily titled, aims to get the eponymous number of views on YouTube.
As the first stage of the implementation plan, the Spamusement Park Project (spa + amusement = spamusement) public announcement video has been created for viewing at the hot spring event, Onsen Academia, in Beppu City and to release on the worldwide web on the same day.

The concept of this video is an "amusement onsen city," bringing together the natural hot springs and an amusement park to form this "spamusement park." What makes the concept so special is this: if this YouTube video reaches one million views, a plan to develop an onsen amusement park will be carried out, making this viewer-count & public video linkage the first of its kind in the world.
The video shows 150 locals enjoying themselves in an existing amusement park in Beppu, converted to look like it is a giant spa with the help of over 12 tons of hot-spring water pumped directly from the natural sources around the resort.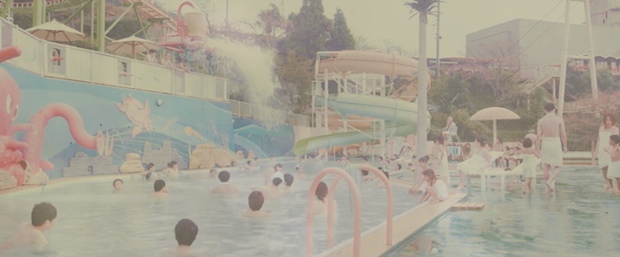 The mayor of Beppu has promised to deliver such a spa-themed amusement park if the clicks tally up to the magic figure.
Famed for its nearly 3,00 hot springs, Beppu is very proactive with its marketing. This is a previous promo video, which has a similarly tongue-in-cheek tone.
The city also recently teamed up with Beams to create an pop-up foot bath inside a Shinjuku store on weekend afternoons during November, using actual hot-spring water from Beppu.