It seems that everyone has a robot these days, even SoftBank.
At CEATEC 2014, Japan's biggest tech event, Toshiba has unveiled its contribution to the Japanese robot canon — an android that can talk and sign.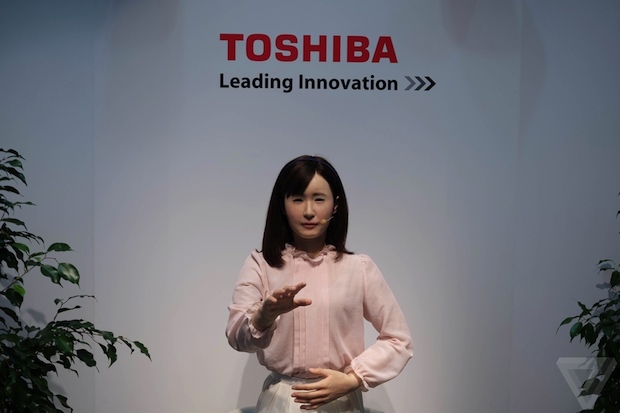 Image via The Verge
Aiko Chihira is an example of what Toshiba hopes will be a new line in humanoid communication robots that can "man" receptions and also help with nursing people, a chronic problem as Japan's population ages.
Aiko Chihira has silicone skin — uncannily like Orient Industry sex dolls, then! — and was jointed developed by aLab Inc., Osaka University, Shibaura Institute of Technology and Shonan Institute of Technology.
Aiko Chihira is equipped with 43 servomotors that move her arms and hands. While it is common to see androids and robots that can interact and converse, one that has also mastered sign language is unusual.
Toshiba anticipates having enhanced Aiko Chihira's technology so much by 2020 that it will be able to serve as an actual guide for foreign visitors to the Tokyo Olympic Games! Would that make you feel more welcome to the Olympics or rather put off?
CEATEC kicked off yesterday in Chiba's Makuhari Messe and this year features a host of 4K televisions, fuel-cell and hydrogen technology, as well as a Sharp-developed color infrared car camera.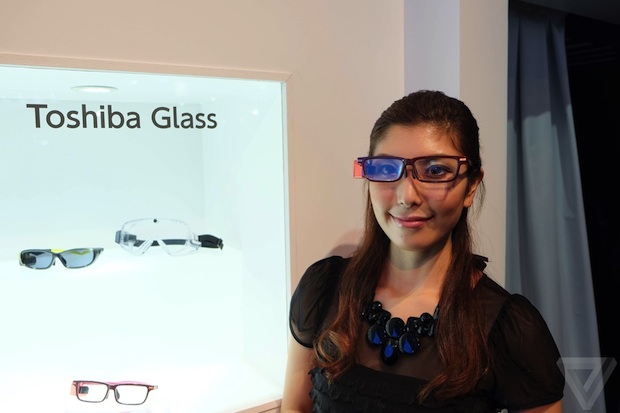 Image via The Verge
Toshiba also showed off its answer to the Google Glasses at the expo, Toshiba Glass, though we're not sure why it has opted for the peculiarly singular noun. Is there only one lens?
Oh, and there was an obligatory ping-pong robot from Omron. If Aiko Chihira is going to take care of visitors, will this table tennis bot be a future Olympic athlete, then?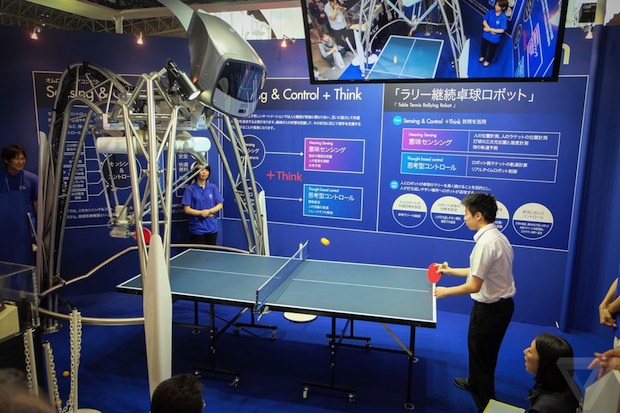 Image via The Verge
Probably not, since Omron has designed the tech so it doesn't try to beat the opponent, just sustain a rally of a 100 strokes. Phew. Saying that, the sheer size of the robot still makes it pretty intimating to play against!