The spring in Japan means many things: the start of the new fiscal and academic year as well as the arrival of the cherry blossom season. The sakura blooms, transforming parks and other areas into seas of white and pink. Many people take advantage of this to hold hanami (cherry blossom viewing) parties, which are often an excuse to get very drunk in a park.
But not everyone will be celebrating the coming of spring outdoors. The Asahi Shimbun reports on a new custom of "air hanami" — fake flower-viewing parties held inside.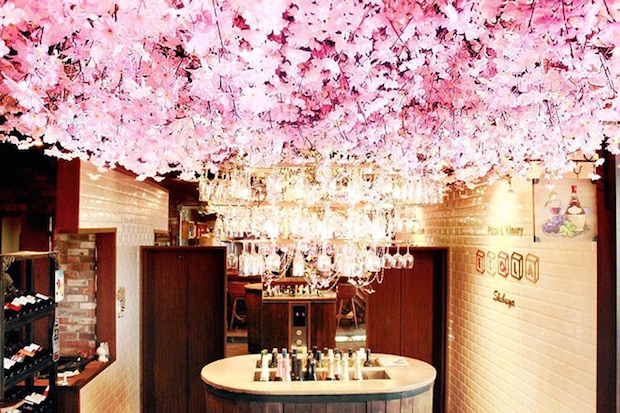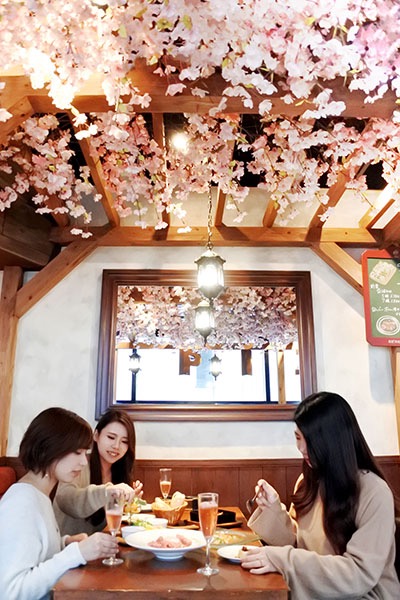 The Japanese brewer Kirin has started marketing an Air Hanami Matsuri, offering various hanami-themed items, and the Asahi also reported on a party held at an Italian restaurant called Esola. Three women were shown dining and drinking underneath a canopy of fake cherry blossom hanging from the ceiling of the restaurant.
"Customers have arrived saying 'We are here because no cherry flowers have blossomed yet,'" someone from Esola was quoted as saying. The newspaper said the restaurant was packed most days, suggesting the fake cherry blossoms hanging from its ceilings was why.
Hanami picnics held outside can be a pain for a number of reasons: organizing food, drink and friends; long lines to use public restrooms; taking your waste home afterwards; and not being able to find your friends' picnic among the throng.
An indoor Air Hanami alternate may prove popular because it's too early or late for the cherry blossom season, or because participants have pollen allergies and do not want to spend a long time outside. It could also be because the weather is bad, putting a dampener on regular hanami plans.
The choice of Kirin to promote this concept is not random. Beer makers in Japan always take advantage of seasonal changes to produce new packaging for their drinks and the cherry blossom period is one of the prime times for this. Sales of cans of beer rise substantially during the peak hanami season in early April.
Another way to have your own hanami at home is with the Magic Sakura Home Cherry Blossom, which is a grow-it-yourself home sakura tree made from paper.