While the world goes mad for Christmas, anime fans are gathering in Akihabara for the Fuyu no Rajikan Matsuri 2012 (Winter Radio Kaikan Festival 2012), where so-called "itasha" (cars decorated with characters) will be parading on December 23rd and 24th.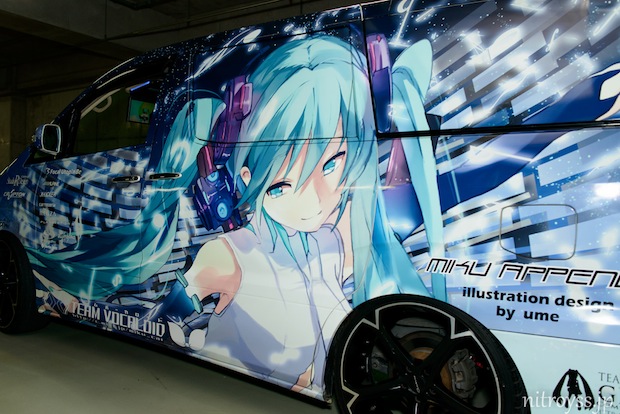 The underground car park of the Akihabara UDX building is playing host to the Christmas Itasha Festa, with Hatsune Miku-themed and other customized vehicles strutting their wares to camera-totting crowds. Not quite The Fast and the Furious: Tokyo Drift, but still pretty cool.

Owners pay ¥6,000 (around $70) per day to exhibit their vehicles in the car park. There will also be regular cosplay in the venue.

Such decoration trends have been becoming popular of late, spreading to trucks, bikes and more — and have been gaining recognition in mainstream culture as well. Previous Itasha festivals have been held in Odaiba, Maebashi and elsewhere.
"Ita" is a word commonly found in the otaku lexicon, literally meaning "painful" (itai) but here referring to the amount of money (and effort) involved in expressing your moe in this way.
Whatever you think of otaku anime — and we know that many people have issues with its attitudes towards women and young girls — undoubtedly it is a subculture that truly celebrates individual playfulness in a fun way.