A fire at Tsukji Market on August 3rd has damaged the internationally famous fish market.
The fire raged for 15 hours at the site of the world's largest wholesale fish and seafood market. No injuries were reported, however, most likely because the fire started late in the afternoon on Thursday when the market is over. An area of roughly 935 square meters burnt down and the Tokyo fire department mobilized some 60 fire engines to battle the blaze.
While some have been quick to speculate that the fire was arson or somehow related to the market's relocation, the official cause of the fire is currently unknown. "At this point we can't say anything about the cause, it's still under investigation," a spokesperson was quoted by Reuters. "There's no information indicating arson, but again, it's still too early to say."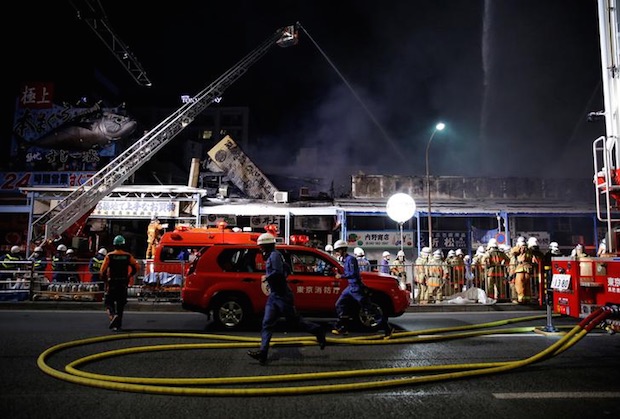 Image: Reuters/Toru Hanai
A fire started by arson in the well-known, notoriously cramped Shinjuku district of Golden Gai in 2016 injured two people and destroyed four buildings housing bars. The 67-year-old homeless man responsible was sentenced to 3.5 years in prison last month.
The 80-year-old Tsukji Fish Market is one of Tokyo's most popular tourist attractions, though it is still a busy, working market and the city's attempts to exploit its appeal have run into opposition from the workers, who see the hordes of visitors as a nuisance.
This is the latest woe for the beleaguered market. For years it has been embroiled in a disputed relocation to Toyosu, eastern Tokyo, which was made even more controversial when the new site was found to be highly contaminated. The new Tokyo governor, Yuriko Koike, sought to assuage public opinion by putting the relocation on ice so that more tests and planning could be carried. However, given that the current market location is going to be used during the 2020 Olympic Games, a complete cancellation of the move was never really on the cards. In the end, Koike fudged it: approving the relocation but also announcing that the current site will be redeveloped as a theme park. The new location, however, is still unsafe and the schedule for the relocation still up in the air (it was originally supposed to happen in November 2016).
The construction of the new market in Toyosu has cost some ¥600 billion while measures to address the pollution have so far exceeded ¥85 billion. The Tsukji site was originally to be sold off by the government, partly in order to offset some of these huge costs, but Koike has now decided to retain the former site for future generations.