The first trailer for the upcoming Warner Brothers big-screen adaptation of Pokémon has been released and sparked an intense online response. Starring Justice Smith and Ryan Reynolds, the story Pokémon Detective Pikachu bears only a passing resemblance to the Pokémon anime, let alone the game Pokémon Go.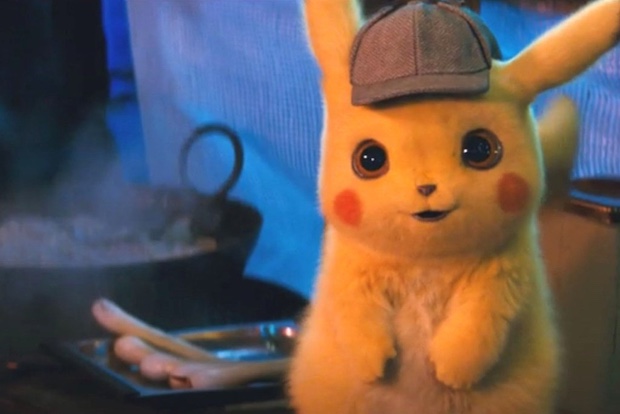 Here's how the studio describes its efforts, which goes on release in America next May.
Fans everywhere can now experience Pikachu on the big screen as never before, as a talking detective Pikachu, a Pokémon like no other. The film also showcases a wide array of beloved Pokémon characters, each with its own unique abilities and personality.

The story begins when ace private eye Harry Goodman goes mysteriously missing, prompting his 21-year-old son Tim to find out what happened. Aiding in the investigation is Harry's former Pokémon partner, Detective Pikachu: a hilariously wise-cracking, adorable super-sleuth who is a puzzlement even to himself. Finding that they are uniquely equipped to communicate with one another, Tim and Pikachu join forces on a thrilling adventure to unravel the tangled mystery. Chasing clues together through the neon-lit streets of Ryme City — a sprawling, modern metropolis where humans and Pokémon live side by side in a hyper-realistic live-action world — they encounter a diverse cast of Pokémon characters and uncover a shocking plot that could destroy this peaceful co-existence and threaten the whole Pokémon universe.
It is the first-ever live-action film adaptation of Pokémon and the first Pokémon film to receive a wide theatrical release in the United States. Aside from the inclusion of the titular Pikachu and other Pokémon characters, the "Japanese" side of the film is, at a first glance, limited to the casting of Ken Watanabe in a supporting role and Ikue Otani's voice talents for Pikachu's "normal" vocals.
So far, the reaction from fans has been, perhaps predictably, confused, if not outright angry. Pikachu is too fuzzy, too much like a hamster — and, of course, Pikachu talks in this movie. Mr Mime's dark depiction, in particular, is freaking some people out.
When Hollywood has previously made film adaptations of Japanese franchises or intellectual properties, the results have frequently enraged fans and disappointed at the box office. For every half-decent attempt like Godzilla (2014), there is a Ghost in the Shell (2017), Atom Boy (2009), Dragonball Evolution (2009), the first Godzilla movie back in 1998, and the execrable Super Mario Bros. (1993). While the American versions of Ringu and Silent Hill were better received, the most common outcome for Hollywood's experiments with Japanese intellectual properties have been financial, fan, and critical disasters.
What fate awaits Pokémon Detective Pikachu when it hits theaters next summer?