On February 17th, there was yet another incursion on the disputed Senkaku/Diaoyu Islands.
But this time it wasn't posturing nationalists on the Chinese or Japanese side. Instead, it was a bunch of bikini-clad girls from both countries, along with some other people dressed up as mascot characters.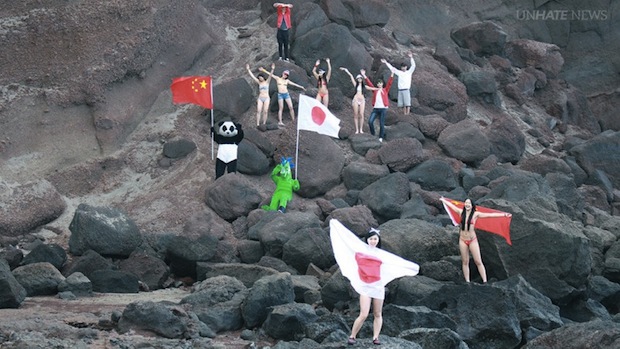 Rather than gushing patriotic slogans, they choose to play a peaceful game of volleyball. After all, what better way to combat hate and conflict over a pile of rocks in the middle of the sea than a harmless sports match?
In the film they declare that they are tired of the confrontation and they invite everybody to play, saying that "This is not Japan vs. China. It's Japan AND China."
So says Unhate News, offering a sharp antidote to the recent troubling emergence of hatred and nationalism in Japan.
Unhate News is supported by United Colors of Benetton and "gives users a platform to create the kind of headlines that they want to see, transforming typical news stories of intolerance and injustice into a positive, hopeful message."
Let's hope these kinds of anti-nationalist stunts help reverse the tide.
Source: Unhate News