A new museum will open in Meiji Shrine (or Meiji Jingu), the central Tokyo shrine linked to the Imperial Family that is one of the most popular tourist attractions in the city.
Designed by Kengo Kuma & Associates, Meiji Jingu Museum is set to open in autumn 2019 to coincide with celebrations marking 100 years since the shrine was founded.
Covering some 3,300 square meters, the museum will be built on a site adjoining the restaurant and shops located 5 minutes from the main shrine gate at Harajuku. It will comprise two floors, including an interactive exhibition space and room for seminars as well as a museum shop and other exhibition galleries. The collection will include items associated with Emperor Meiji and Empress Shoken, to whom the shrine is dedicated.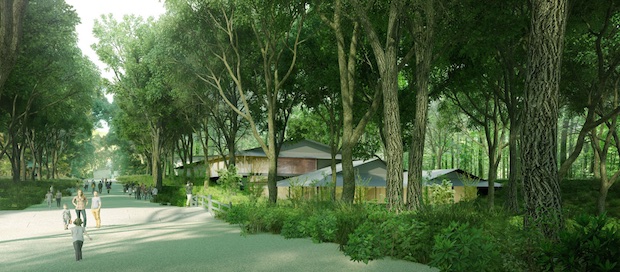 The ground floor entrance will feel spacious, like a vista of a gorge, which is appropriate for one of the best-loved woodland areas in central Tokyo. Standing by the main bridge that forms one of the symbols of the shrine, Kuma's museum design will intermingle the building gracefully with the forest.
Meiji Shrine is located very near to JR Harajuku Station, which will itself soon be extensively rebuilt and expanded by JR East.
It is a busy time for Kengo Kuma. In addition to a luxury hotel in Ginza and the new Yamanote Line station, his studio is also responsible for the national stadium that will be used in the Olympics in 2020. Kuma's design was chosen to replace the late Zaha Hadid's plan that was eventually rejected due to spiraling budget costs. The stadium's woes have not ended there, however, as it was recently suggested that pressure to finish the stadium in the tight time frame before the start of the Games led a construction worker to commit suicide earlier this year.