The latest bizarre marketing campaign by a Japanese beer brand purports to turn you into a voyeur spying on a beautiful girl's life.
Can Shiten shows the world from the perspective ("shiten" in Japanese) of a can of beer. The beverage in question is Nodogoshi, Kirin's dirt-cheap lager that is a staple of wallet-conscious salarymen.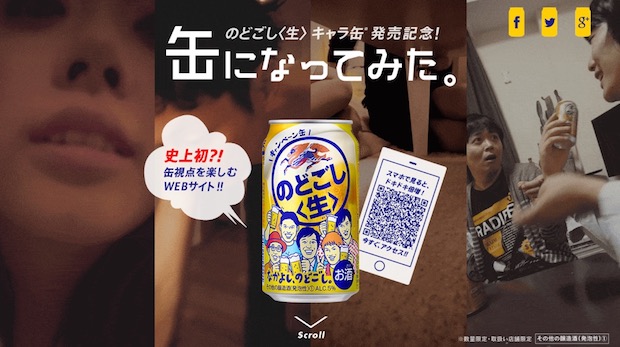 You can choose to "watch" Karoi Shiraishi, a 26-year-old editor, or Kenichi Toba, a 27-year-old consultant for an overseas firm, while they relax at night in their homes in Tokyo.
If that's not creepy enough for you, feel free to spy on the "aftermath" of a group date, where the women share their impressions of the prospective partners they met.
Of course, the frame is decided to imitate the shape of a can but also makes it perfect for watching on your phone (a gimmick recently exploited by a music video in Japan).
The campaign seems intended to present Nodogoshi as not just a drink for cheapo businessmen, but also a refreshing sud for young and hip metropolitan types to enjoy.
Kirin also recently marketed Nodogoshi with a bikini-clad and anti-feminist commercial, and the brewer also turned heads with its arguably "racist" online campaign for a tea drink.
The other big news story about Japan's major beer manufacturers is their dubious entry into the craft beer market.
Recent years have witnessed incredible growth for small and medium-sized microbreweries. On top of the rise in craft beer bars and restaurants rapidly increasing in Tokyo and around the country, the brewers have enjoyed retail success with their products expanding into supermarkets and convenience stores (especially Lawson), branded bars like Yona Yona's four in Tokyo. Even import craft beer like Brew Dog was such a runaway hit it opened its own bar in Roppongi.
After years of demoting their own brands through "fake beer" and other cheaper offerings, the big beer makers attempted to hijack the craft beer renaissance that Japan is experiencing (the first "boom" actually being the early 1990s). Suntory released several colorfully packaged beers under a "Craft Select" label. Asahi followed with a seasonal Craftsmanship series while even Sapporo has a Craft Label pale ale.
Kirin opened a chic craft brewpub in a redeveloped part of Daikanyama, one of Tokyo's most tony of districts. Spring Valley Brewery has become a genuine hit, attracting around 260,000 visitors in its first year. Kirin now also owns a minority stake in Yo-Ho Brewing Company — Yona Yona's brewery — and even makes some of their pale ale for them, since the Nagona-based brewer is so popular it cannot keep up with demand.
However, not all the brewers' efforts have met with success. Connoisseurs immediately scoffed at the drinks being pushed as "craft" by the brewers and regular consumers seemed to agree: Asahi announced on June 1st that it would not be expanding its craft beer range after sluggish sales following its entry into the market in February last year.