Korg, although respected as a premier electronic musical instrument and accessories maker, still likes to have fun every now and then.
That's why in the past it has released such items as Hello Kitty Guitar Tuner in collaboration with Sanrio.
And now it has created the Korg Miku Stomp Effect for Hatsune Miku, the virtual character originally created for the Yamaha Vocaoloid system that has since become a mini industry in its own right.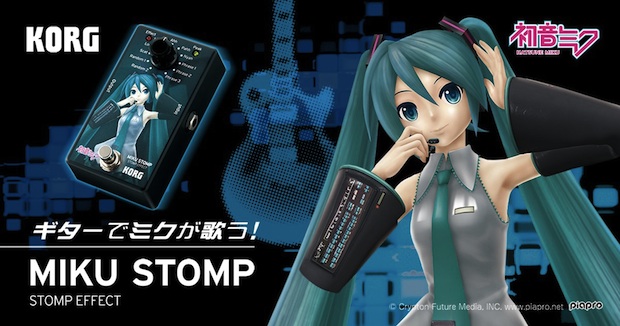 Hatsune Miku has inspired an opera, Blythe fashion dolls, racing bikes and more. She also recently became the Otona no Kagaku Pocket Miku Singing Keyboard for gadget kit makers Gakken.
Korg's contribution is the rather snazzy-looking Korg Miku Stomp Effect. Korg is obviously at home with Hatsune Miku, who was born out of electronic music. This new Korg Miku Stomp Effect, to be released in October in Japan, allows you to have a guitar duet with Miku, singing in her unique Yamaha eVocaloid style.
Here's a trailer hinting at the kinds of sounds you can create.
Korg says the aluminum diecast body on the effects unit is decorated with a specially commissioned original illustration.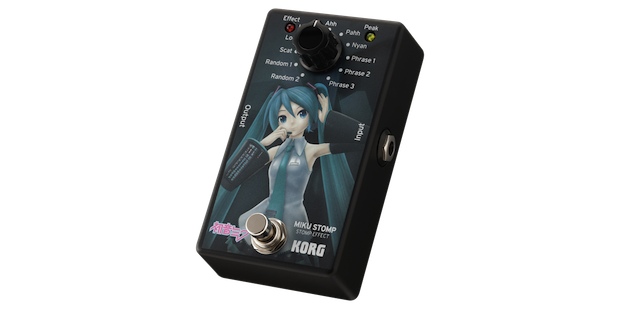 There are 11 different lyric patterns and you can also input and customize your own lyrics. Korg are being a bit coy about how this will work. Apparently there is going to be a dedicated iPhone app but complete details are not yet available, plus they do not promise it can work with "English" but do say it can work with up to 6,000 characters in either Hiragana, Katakana or Romaji — but the latter is essentially writing Japanese in the Roman alphabet so it should in theory be possible to program Hatsune Miku to sing what you want to the tune of "Senbonzakura".
This will have to confirmed in late October when the Miku Stomp Effect goes on release here. We can't wait to see what Hatsune Miku fans create with their new musical toy.
Check out further details and specs on JapanTrendShop.