Tokujin Yoshioka's Kou-an glass tea house was a huge success when it was shown in Kyoto in 2015. If you missed your chance to see it then or if you want to experience it again, it will be touring Japan from the end of this year.
Following its open-air exhibit at Seiryu-den in the Tendai temple of Shoren-in of Kyoto, and attracting attention worldwide before closing in September 2017, Kou-an will next appear at Saga Prefectural Art Museum in southern Japan from November 28th until February 11th. After this, it will be exhibited in Tokyo at an as-yet unannounced venue.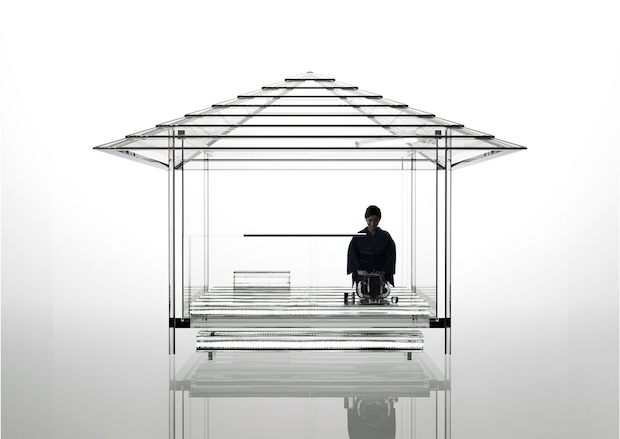 Admission to the Saga Prefectural Art Museum exhibition costs ¥1,300 for adults. The exhibit will be indoors this time and presented as a light installation. Light is one of Yoshioka's signature motifs, as he demonstrated with a prism installation for Shiseido in 2016. The Saga show will also include other glass pieces by Yoshioka such as Water Block (a glass bench that is part of the collection of the Musée d'Orsay in Paris) and Waterfall, a glass table.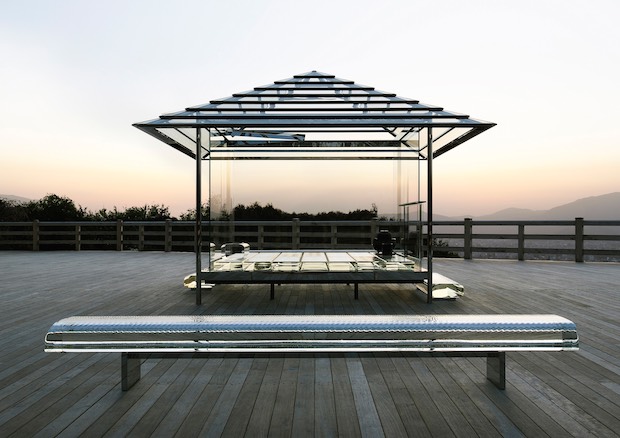 Kou-an was first shown at Glasstress 2011, part of the 54th Venice Biennale. In 2015, designboom wrote:
Tokujin Yoshioka reinterprets the culture of a japanese tea ceremony through a contemporary lens with the design of Kou-an glass tea house, sited on the stage of Seiryu-den in Kyoto. The project is not only a modernized version of a teahouse, evolved in architecture and aesthetic from the traditional style, but also an idea that traces origin of the culture peculiar to Japan. By making the structure from various weights and angles of transparent glass, Yoshioka offers an opportunity for people to sense the essence of Japanese history and rethink its position in today's society.