In a blatant attempt to attract women who like good beer, an event will be held on February 20th in Harajuku with bicep-baring male servers.
Macho Craft Beer Bar features three hunky men who will be serving customers without much in the way of attire.
It costs ¥4,200 for a two-hour all-you-drink and all-you-can-watch session, starting at 11am. Food costs extra, so this is not a cheap outing but perhaps the muscles are worth it.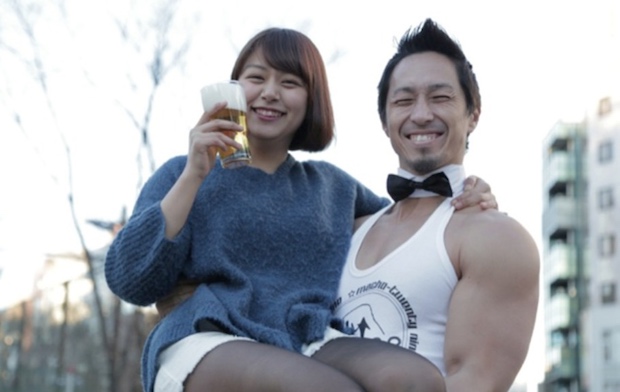 Craft beer has been booming in Japan as younger drinkers return to beer after Japan's major breweries spent years shooting themselves in the foot with "fake beer" releases that destroyed their reputations. Even they have since tried to get in on the craft beer craze with special releases and restaurants.
While the initial craft beer "boom" happened in the mid-1990s after the government relaxed limitations on brewing volume, allowing microbreweries to develop, it is only the past few years that quality has really caught up with the demand, along with the gap in the market left by Kirin et al's marketing and product development choices over the past decade that prioritized only penny-pinching older men. (To be fair, the major breweries tried to compensate with "frozen beer slushies" and other "cool beer" gimmicks.)
As of 2015 there are 241 microbreweries in Japan, and craft beer on tap is available at specialist restaurants and bars all over Tokyo and other major cities, as well as other restaurants that don't necessarily brand themselves as "craft beer" per se.
As many craft beer establishments in Tokyo — including overseas names like BrewDog and Mikkeller — place a large emphasis on cuisine and have no-smoking policies, they are also popular with female drinkers. There is even a magazine for girls and craft beer.
While Japanese domestic craft beers have strong American influences, there are also elements from other beer cultures too, plus plenty of girl-friendly fruity and sweet flavors.
Retailers have also been joining in. Now many convenience stores and other shops stock craft beers, both domestic and import. Aeon, the nation's largest retailer, stocks up to 90 such beers at 250 branches around Japan, while Lawson has been taking the lead by working with Yo-Ho Brewing Co. to offer their brews.
This, along with ad-hoc events like Macho Craft Beer Bar and the growing popularity of local breweries, should mean that Japan's craft beer boom doesn't deflate any time soon.