Shibuya is like a hydra. Just when you think you have it sussed, along comes yet another shopping arcade or mall to confuse you.
Earlier this year Tokyu opened the Shibuya Chikamichi Lounge underneath Shibuya Station. The space is a bit hard to define (information portal? rest stop?), though we think it's pretty typical of the kind of consumer spaces you often find in Japan. After all, in Shibuya Center Gai there is also the Blue Windy Lounge "smoking room" sponsored by a tobacco company, and other stations around the city feature special spaces for women to get massages and beauty treatment.
Shibuya Chikamichi ("underground street") Lounge has toilets and baby room facilities but it's more than just an amenity. It has a women-only "powder room" and a men-only "dressing room" (this is Shibuya, the men like to look their best too), though be warned the wifi in the main lounge is "fake wifi", i.e. only a booster for certain domestic network providers.
Okay, so Tokyu lost a point there but make up for it in the lounge's friendly and pop interior vibe. Perhaps the only thing it's "missing" is an actual cafe or coffee bar, though there's no shortage of those in Shibuya, of course.
Tokyu says this is the first station facility of its kind but we also like how the functionality has not taken precedence over how the place looks. The powder room features designs by photographer and film director Mika Ninagawa and the men's room is also suitably snazzy and colorful.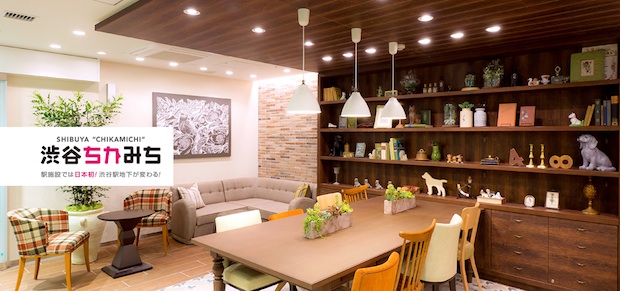 Overseas visitors may also be interested to learn that in the lounge, among the desks and sofas for relaxing is a concierge who speaks English and can help out lost tourists trying to navigate the subterranean maze of Shibuya. (Officially he or she will be there to give out information about Shibuya trains.)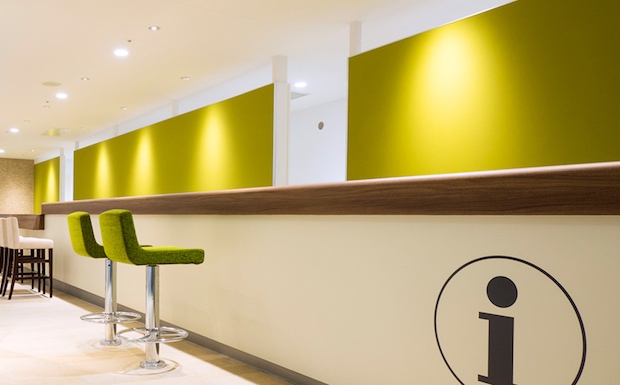 Open 10:00-20:00, Shibuya Chikamichi Lounge is located between the underground shopping plaza in Shibuya and Shibuya 109, and is free to use.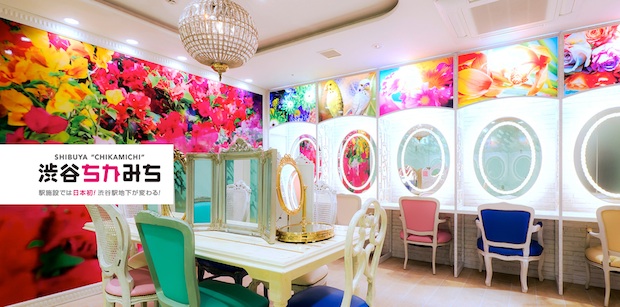 Tokyu is on a mission to transform Shibuya, a program of powerhouse developments it launched with the Shibuya Hikarie building it opened in 2012 (so posh it even has its own Swarovski-designed Lawson convenience store) and then its merger of the old above-ground Toyoko Line with the underground Fukutoshin Line last year. Several others are on the way. By 2027 it plans a further five large buildings. Shibuya will evolve further for train passengers when the JR Station also puts both Yamanote Lines onto one island platform and moves the notoriously distant Saikyo Line to a more accessible location. This is all going to be part of a new 46-storey station building with offices and shops. After all, if there's one thing Shibuya lacks, it's new construction work. Oh, wait…