Eating or going out alone needn't be restrictive in Japan.
Single diners these days can choose from Yakiniku Korean BBQ meals especially designed for one or even Nabe hot pot meals. Fancy bellowing out a few hits? There are special karaoke booths for singing solo.
While these new solo consumption services are inventive, many have seen them as depressing and a sign of the times. Yes, eating alone can be boring and embarrassing. So some chaps have stepped in to help solo consumers who don't want to be drinking or eating sans a friend.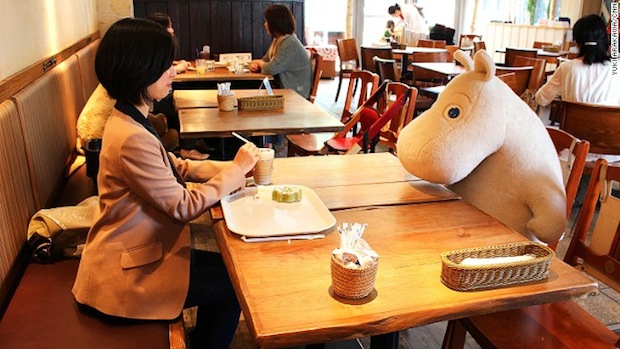 Enter Finnland's greatest exports, the Moomins, who are staffing an "anti-loneliness cafe" at Tokyo Dome City LaQua that has gone viral recently.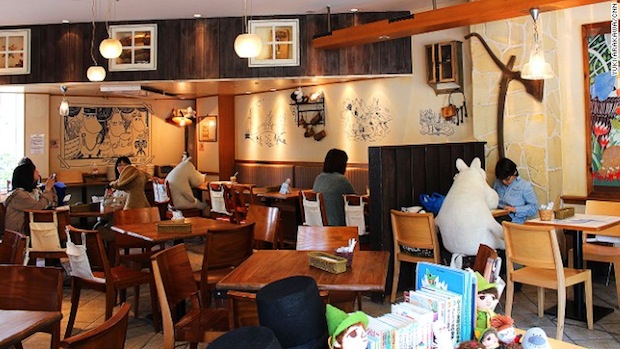 To save its lone customers from the awkward perils of solo dining, the cafe kindly seats diners with stuffed animal companions called Moomins, a family of white hippo-like characters created by Finnish illustrator and writer Tove Jansson.

Moomins are brought to each table so that patrons — solo or in groups — can have a turn sitting with them.

Weekday mornings are the quietest time, while weekends are packed all day long.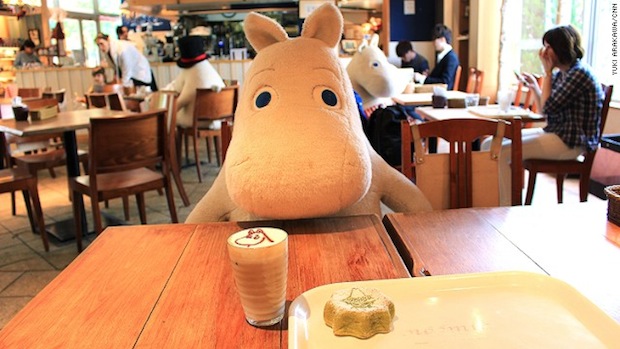 The cafe isn't new (the Tokyo Dome City one opened way back in 2003) but has been getting lots of attention overseas in recent weeks.
While in some ways it might adhere to the "wacky Japan" stereotype, the cafe could perhaps be interpreted as an innovative retail response both to Japan's love of the Moomin characters and also genuine social issues.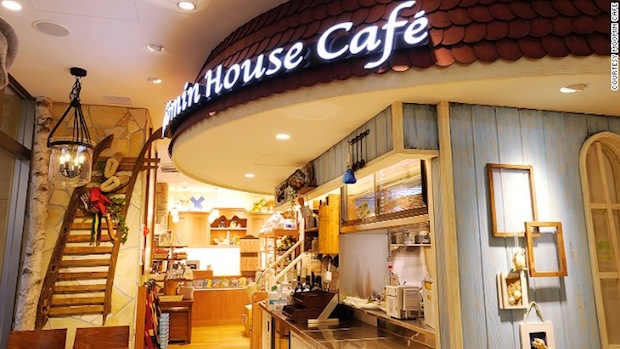 Depression and suicide are a fact of life in Japan. Not a day seems to go by without someone throwing themselves in front of a train on one of Tokyo's many lines. (In fact, the numbers work out as something like 70 people killing themselves per day.) The suicide rate increased in the wake of the collapse of the economic bubble, topping 30,000 in 1998, and the post-2008 recession also aggravated social issues that lead to despair for many. Suicide numbers dipped slightly in 2012 and again in 2013, but remain high.
It would be insulting to suggest that the Moomins can contribute to combatting suicide — but they can't hurt either. (The National Police Agency has in the past even used music idols AKB48 to front an anti-suicide campaign, so the idea that "cute" can combat loneliness is apparently officially accepted.)
The Moomins are very popular in Japan, as any trip to Loft or Tokyu Hands will reveal in the hordes of merchandise waiting for consumers to buy. There is also going to be a Moomin theme park in the near future.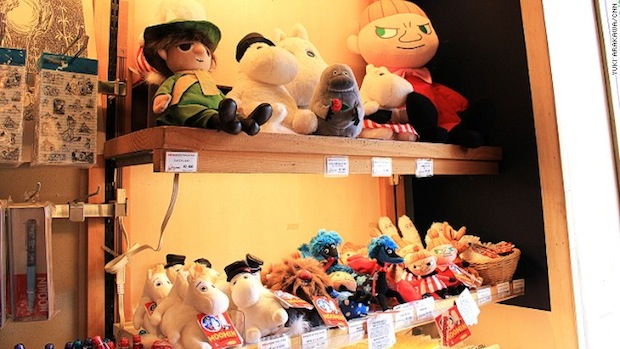 This Tokyo Dome City Moomin cafe is run by Benelic, who operates four Moomin businesses in Tokyo. There is also the Moomin House Cafe at Solamachi, the mall attached to Skytree. And then there is another Moomin Bakery & Cafe in Fukuoka, at Canal City Hakata, plus numerous Moomin Stands and Moomin Shops at other locations in Tokyo and around Japan.